December 2004
Did you know that the oak is called quercus or querimus because it was by means of this tree that heathen gods used to answer queries about the future?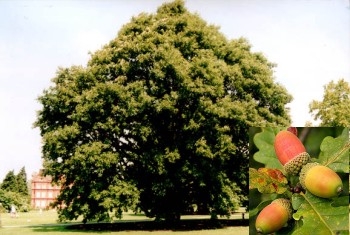 Oak - Quercus
Oak - Quercus
Oak (Quercus) is a large group of evergreen and deciduous trees and shrubs that are found wild throughout Europe, Asia, northern Africa, and North and South America. Some require tropical or sub-tropical conditions to survive, while the majority are hardy in the North. The Oaks are varied in their appearance; it is hard to believe that some kinds can be classified with the same species. They do, however, have one characteristic in common, which is the fact that their seeds are carried in little caps called Acorns.
The common oak is a strong, enduring and steadfast tree. Indeed, it is one of our longest-living trees, spanning generations upon generations. For this reason, old oaks were veneraged and used by various religions for important meetings and ceremonies. They were planted to mark boundaries because of their longevity and strength to endure for hundreds of years. Since the Oak was a source of food for the people of Europe it was respected far back into history.
The Oak will take 70 - 80 years before it begins to produce acorns. By then the trunk will be about 20 inches in diameter, but this will still be a young tree in the life of an Oak. After it has reached 100 years, it will only increase its girth by about one inch (2.5cms) a year, but this extremely hard dense wood is highly prized as a building material and firewood. Until men devised iron cutting tools, the Oak resisted all attempts to fell it. After this, ironically, Oak became the main wood for making the charcoal needed for the furnaces which separated iron from its ore. It later became the main construction material for houses, churches and ships as it was strong and durable and its twisted branches provided the right shapes needed.
There are many famous old Oak trees. Ancient Oaks can be found on village greens or in fields and would previously have been used a boundary marker. Many old Oaks were called Gospel Oaks, relating to the time when the gospels were preached from beneath their mighty shade. Of course, this follows on from the custom and practice of the Druids who met in mighty Oak groves and beneath old Oak trees, for all their meetings and teachings were outside in the open and closely connected to the tree dryads.
One etymology of the word Druid derives it from "dru-wid", meaning "knower of oak trees", but "deru" also means truth or troth and so could also give the meaning "knower of the truth".
The Norse God Thor and all thunder Gods are connected to the Oak, which is often struch by lightning. The force of the blast bursts the trunk apart, often leaving a hollow bole and gnarled and withered trunks. Here lies a warning about stubborn rigid strength which resists and breaks in the storm. Flexibility can be a strength in itself, which can balance the forcefullness of rigid thinking and actions. During the 7th lunar month the Druids carved a circle, divided into 4 equal parts, on the Oak for protection against lightning. This paractice is said to be found even today amongst some old foresters in Britain, who continue to carve this symbol onto the Oak to avert disaster for the tree. Similarly acorns were carved on bannisters and blind-pull bobbins to ward off lightning striking the house.
In Greek Mythology Zeus/Jupiter, the Oak God, was also armed with thunderbolts. The oracular Oak grove at Dodona in Greece was dedicated to Zeus and messages from the Gods were interpreted from the sound of the wind in the Oak leaves. The oak is called quercus or querimus because it was by means of this tree that heathen gods used to answer queries about the future.
But it's not only Zeus who is connected to the Oak.Dryads and hamadryads are two types of wood nymphs in Greek mythology. These female nature spirits were thought to inhabit trees and forests, and they were especially fond of oak trees. There are many stories of dryads in myth and legend. These nymphs were not immortal. And indeed, the hamadryads were even more vulnerable, for it was believed that their lives depended on the health and well-being of the oak trees they inhabited.
The leaves and bark of the Oak are the main parts to be used medicinally. The juice from crushed Oak leaves can be applied directly onto wounds and the leaves can be soaked in boiling water, allowed to coola nd the liquid used to relieve fired and inflamed eyes. Use the same lotion for any cuts and burns and as a mouthwash for bleeding gums and for bathing piles (haemorrhoids), varicous veins and as a gargle for sore throats. A decoction of the bark can be used for reducing fevers, diarrhoea, dysentry, tonsillitis, pharyngitis and laryngitis. A decoction is made by adding 1 teaspoonful of crushed bark per cup of cold water. Bring to the boil and simmer for 5 to 10 minutes. This can be drunk 3 times a day in a wineglass measurement.
The bark should be collected from the Oak in small patches in April or May. Make sure that what you collect is smooth and free from blemishes. Carefully pare it from smooth branches or from trunks less than 4" thick, but be sure not to ring the tree or it will die. The bark yields a tannin which was used extensively for preparing leather and twine.
A coffee substitute can be made from acorn kernels. Chop them up and roast them to a light brown colour, then grind them up and roast them again.
Source:
http://www.whitedragon.org.uk/articles/oak.htm
http://www.loggia.com/myth/dryads.html
http://www.botanyworld.com/quercus.html