June 2005
Did you know that Japanese honeysuckle with its pretty sweetly scented flowers, has become a serious weed in many areas of N. America?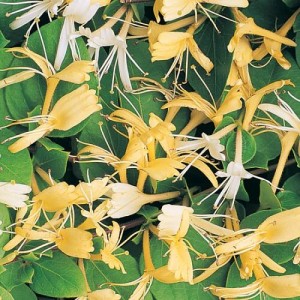 Honeysuckle - Lonicera spp.
Honeysuckle (Lonicera spp.)
Lonicera group (family Caprifoliaceae) consists of about 180, evergreen and deciduous, woody climbers and shrubs, commonly known as Honeysuckle. They are valued for their pretty flowers, which are sweetly scented, and their decorative fruits, which birds find delectable. The climbing Honeysuckles are suitable for growing over a trellis, arch, or pergola, while the shrubby kind are great for growing in borders and rock gardens, and as hedges. Their trumpet-shaped flowers are borne from late winter or early spring to late summer and range in color from cream and light yellow to vivid scarlet and purplish-rose. They are followed by pretty fruits that may be white, yellow, orange, red, blue, and black
Japanese Honeysuckle (Lonicera japonica) is the most common Lonicera. This import from Japan is an aggressive climbing vine and ground cover. 'his plant is capable of overwhelming and killing not only small plants, but large trees as well. Although beloved for its flowers by humans and birds.
Japanese Honeysuckle (Lonicera japonica) is perennial herb Native to E. Asia - China, Japan, Korea, now naturalized in Britain and the US from southern New York and New Jersey south to southern Florida and west to southwestern Texas. Inland it is distributed from Pennsylvania and West Virginia west to Missouri, Kansas, and Oklahoma. Widespread in the eastern and southern United States. Japanese honeysuckle is an important white-tailed deer food and is often invasive.

Prefers partial shade to full sun and moist soil. Prune back hard in winter to prevent the build-up of woody growth, provide a trellis. Climbing Vine, Shrub, it has a dense root system that may extend laterally for a distance of 7 to 10 feet, and attain depths of 3 to 4 feet. The simple, opposite, pinnate leaves are oval to oblong in shape and are semi-evergreen and may persist on vines year-round, up to 3 inches in length. The extremely fragrant, two-lipped flowers are borne in pairs in the axils of young branches and are produced throughout the summer. Flowers range from 1 to 2 inches in length and are white with a slight purple or pink tinge when young, changing to white or yellow with age, they are edible. The fruit is a black, berrylike drupe with three to five one-seeded stones. (See harvest times for various parts of the plant below).
This plant has become a serious weed in many areas of N. America.
Super herbalist Steven Foster has, with good reason, called honeysuckle "the most hated alien weed species of the eastern United States." First recorded as a garden escape in the 1890s, by 1919 it was considered a rank aggressive invader. Now it is recognized as one of the most ruthless weeds in America, especially the Southeast. In Herbal Emissaries, Foster gives a good account of how honeysuckle was introduced. In 1806, William Kerr, collecting specimens in China for Kew Gardens in England, introduced the plant to Britain via Captain James Pendergrass' ship Hope. Honeysuckle arrived in the United States that same year as an ornamental plant. Unfortunately, in 1862, George Hall introduced a more vigorous variety, Lonicera japonica "Halliana," which became the superweed we know today.
Japanese honeysuckle is edible and medicinal. High in Calcium, Magnesium, and Potassium, the leaves can be parboiled and eaten as a vegetable. The edible buds and flowers, made into a syrup or puddings. The entire plant has been used as an alternative medicine for thousands of years in Asia. It is alterative, antibacterial, antiinflammatory, antispasmodic, depurative, diuretic, febrifuge, and is also used to reduce blood pressure. The stems are used internally in the treatment of acute rheumatoid arthritis, mumps and hepatitis. The stems are harvested in the autumn and winter, and are dried for later herb use.
Externally, the flowers are applied as a medicinal wash to skin inflammations, infectious rashes and sores. The flowers are harvested in early morning before they open and are dried for later herb use. Itís difficult to image that such a serious weed as Lonicera japonica could also be a useful medicinal plant.
Saponins in Japanese honeysuckle are much more toxic to some creatures, such as fish, and hunting tribes have traditionally put large quantities of them in streams, lakes etc. in order to stupefy or kill the fish.
Children love picking the delicate white and yellow flowers, attracted as the pollinators are, by their intense sweet aroma, and after peeling away the flower parts, enjoy the golden nectar for a sweet, but tiny treat. In China, L. japonica is a valued medicinal herb that contains anti-complementary polysaccharides and polyphenolic compounds that inhibit human platelet activation. A mixture of honeysuckle flower buds plus parts of other plants known as "Aden I" is reported to feature antibiotic and antiviral powers. Herbalists use the flowers and leaves as a treatment for chicken pox and some Korean poultry producers use the exotic as a feed additive to increase productivity of broiler chickens. Whether we love it or loathe it, the sweet-smelling weed is here to stay.
Source:
http://www.botany.com/lonicera.html
http://www.naturesherbal.com/Honeysuckle.htm
http://ca.msnusers.com/Tintagel/honeysuckle.msnw
http://www.olympusmicro.com/ micd/galleries/reflected/honeysuckle.html