August 2019
Did you know that Brazil nuts of Bertholletia excelsa plant are perhaps the richest dietary source of selenium?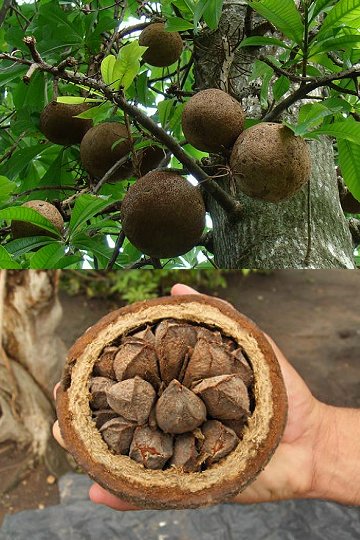 Brazil nut tree (Bertholletia excelsa).
Brazil nut tree - Bertholletia excelsa
The Brazil nut (Bertholletia excelsa) is a South American tree in the family Lecythidaceae, and also the name of the tree's commercially harvested edible seeds. The Brazil nut tree is the only species in the monotypic genus Bertholletia. It is native to the Guianas, Venezuela, Brazil, eastern Colombia, eastern Peru, and eastern Bolivia. It occurs as scattered trees in large forests on the banks of the Amazon River, Rio Negro, Tapajos, and the Orinoco. The genus is named after the French chemist Claude Louis Berthollet.

The Brazil nut is a large tree, reaching 50 m (160 ft) tall and with a trunk 1 to 2 m (3.3 to 6.6 ft) in diameter, making it among the largest of trees in the Amazon rainforests. It may live for 500 years or more, and according to some authorities often reaches an age of 1,000 years. The stem is straight and commonly without branches for well over half the tree's height, with a large emergent crown of long branches spreading over 30 metres (100 feet) in diameter, above the surrounding canopy of other trees.

The bark is grayish and smooth. The leaves are dry-season deciduous, alternate, simple, entire or crenate, oblong, 20–35 cm (7.9–13.8 in) long and 10–15 cm (3.9–5.9 in) broad. The flowers are small, greenish-white, in panicles 5–10 cm (2.0–3.9 in) long; each flower has a two-parted, deciduous calyx, six unequal cream-colored petals, and numerous stamens united into a broad, hood-shaped mass.

The fruit takes 14 months to mature after pollination of the flowers. The hard-walled fruits are spherical pods, 8–18 cm (3–7 inches) in diameter, that resemble large coconuts hanging at the ends of the tree's thick branches. A typical 15-cm (6-inch) pod can weigh up to 2.3 kg (5 pounds), has a hard, woody shell 8–12 mm (0.31–0.47 in) thick, and contains 12–24 nuts, or seeds (the "Brazil nuts"), that are arranged like the sections of an orange. A mature tree will produce more than 300 pods, which ripen and fall to the ground from January to June. The pods are harvested from the forest floor, and the seeds are taken out, dried in the sun, and then washed and exported while still in their shells. The brown shell is very hard and has three sides.
Despite their name, the largest exporter of Brazil nuts is actually Bolivia where the nut is called nuez de Brasil. Both rural Bolivians and Brazilians rely on collection and sale of Brazil nuts as a primary source of income.
Brazil nuts are some of the most valuable non-timber products in the Amazon but are extremely sensitive to deforestation, because of their complex ecological requirements. The trees produce fruit only in undisturbed habitats and cannot be cultivated in pure stands. They require large native bees for the pollination of their semi-enclosed flowers and rely solely on agoutis (medium-sized rodents) for the dispersal of their seeds. Brazil nuts are primarily harvested in the wild by local people. Many forest-based communities depend on the collection and sale of Brazil nuts as a vital and sustainable source of income, and the sweet nuts provide protein and calories for tribal, rural, and even urban Brazilians. Native Amazonians use the empty pods as containers and brew the bark to treat liver ailments.

Brazil nuts are 14% protein, 12% carbohydrate, and 66% fat by weight; 85% of their calories come from fat, and a 100 gram amount provides 656 total calories. The fat components are 23% saturated, 38% monounsaturated, and 32% polyunsaturated. Due to their high polyunsaturated fat content, primarily omega-6 fatty acids, shelled Brazil nuts may quickly become rancid.

Nutritionally, Brazil nuts are an excellent source (> 19% of the Daily Value, DV) of dietary fiber (30% DV) and various vitamins and dietary minerals. A 100 gram amount (75% of one cup) of Brazil nuts contains rich content of thiamin (54% DV), vitamin E (38% DV), magnesium (106% DV), phosphorus (104% DV), manganese (57% DV) and zinc (43% DV) (right table). Brazil nuts are perhaps the richest dietary source of selenium, with a one-ounce (28 g) serving of 6 nuts supplying 774% DV.[15] This is 10 times the adult U.S. Recommended Dietary Allowance, more even than the Tolerable Upper Intake Level, although the amount of selenium within batches of nuts varies greatly.

As well as its food use, Brazil nut oil is also used as a lubricant in clocks, for making artists' paints, and in the cosmetics industry. Engravings in Brazil nut shells were supposedly used as decorative jewelry by the indigenous tribes in Bolivia, although no examples still exist. Because of its hardness, the Brazil nut's shell is often pulverized and used as an abrasive to polish materials such as metals and even ceramics (in the same way jeweler's rouge is used).

Source:
https://en.wikipedia.org/wiki/Brazil_nut
https://www.britannica.com/topic/Brazil-nut#ref1203970