April 2007
Did you know that the word Aristolochia means "excellent birth" and refers to the traditional use of the fresh juice to induce labour?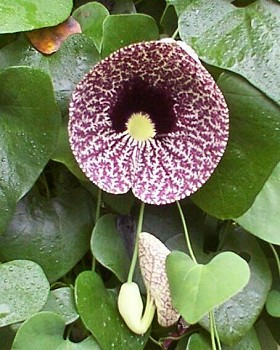 Calico Flower (Aristolochia elegans)
Calico Flower - Aristolochia spp.
Aristolochia is a large genus of plants with over 500 species, belonging to the family Aristolochiaceae. This is a genus of evergreen and deciduous woody vines and herbaceous perennials. Aristolochia species are found all over the world. They are widespread and occur in the most diverse climates, but not in Australia. The most ornamental of them (Aristolochia elegans, Áristolochia gigantea) are native in Brazil.

The smooth stem is erect or somewhat twining. The simple leaves are alternate and cordate, membranous, growing on leaf stalks. There are no stipules.

The flowers grow in the leaf axils. They are inflated and globose at the base, continuing as a long perianth tube, ending in a tongue-shaped, brightly colored lobe. There is no corolla. These flowers have a specialized pollination mechanism. The plants are aromatic and their strong scent attracts insects. The inner part of the perianth tube is covered with hairs, acting as a fly-trap. These hairs then wither to release the fly, covered with pollen.
The greenish-white flowers have a s-curved tubular shape that is flared at the mouth that resembles a 19th century Dutch pipe (recall Sherlock Holme's pipe). Species of Aristolochia are generically called pipe vines or Dutchman's pipes for this reason. The inner portion surface of the mouth of the "pipe" is covered with a purplish-brown pattern that is reminiscent of calico fabric which inspire this species common name "calico flower". "Dutchman's pipe" is a name more commonly used for another species, Aristolochia durior, which is a hardier plant native to the southeast United States. This "real" Dutchman's pipe has a smaller bloom that is not as showy as calico flower (Aristolochia elegans) but is a great vine to grow as well as all of the pipevines are important larval food sources for several species of butterflies.

One species are commonly called Birthwort (Aristolochia clematitis). This is a herbaceous plant in the Aristolochiaceae family, which is native to Europe. The leaves are heart shaped and the flowers are pale yellow and tubular in form.Birthwort was given to women in labor to expel the placenta, but since aristolochic acid is a poison, it sometimes resulted in the mother dying. Nevertheless, aristolochic acid is said to cure wounds or snakebites in a spectacular way. Decoctions of birthwort stimulate the production of white corpuscles and increase their activity. Furthermore, birthwort contains a disinfectant which drains off fluid from the wound. Birthwort was therefore highly regarded by the ancient Egyptians, Greeks and Romans.

Some reference books state that the Latin name Aristolochia was developed from Greek etymons meaning aristos, "best", and locheia, "childbirth" or "childbed". Aristolochia means "excellent birth" and refers to the traditional use of the fresh juice to induce labour. Indian Root was used mainly in childbirth. In England, it was known as birthwort and used for this purpose.
While it was Dioscorides, in the 1st century A.D., who first recommended Birthwort as an aid in childbirth, it was "prescribed" for women's ills as early the 5th century B.C. At that time, Hippocrates considered it useful in the treatment of women with ulcers or pains in the side. Theophrastus (372-286 BC) records that the plant was used to treat disorders of the uterus, reptile bites, and sores to the head. Pliny, a contemporary of Dioscorides, believed that, if taken with beef immediately after conception, Birthwort would assure the birth of a male child. According to Theophrastus, robust honeyed wine, to which shavings of aristolochia root had been added, induced sleep.
Source:
http://en.wikipedia.org/wiki/Aristolochia
http://www.floridata.com/ref/a/aris_ele.cfm
http://www.suite101.com/article.cfm/ wildflowers_north_america/97114
http://www.innvista.com/health/herbs/birthwor.htm