November 2023
Did you know that Flame tree (Delonix regia) has become almost extinct in its native range of Madagascar, but it is widely cultivated worldwide?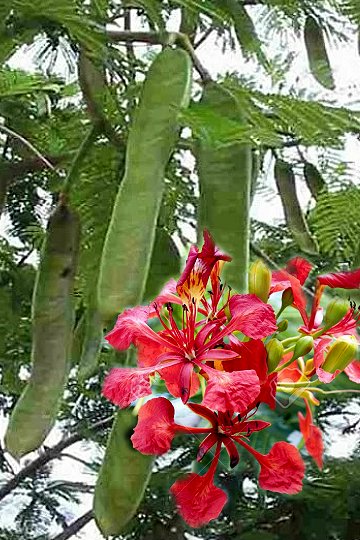 Flame tree (Delonix regia). Flowers and fruits.
Flame tree - Delonix regia
Delonix regia is a species of flowering plant in the bean family Fabaceae, subfamily Caesalpinioideae native to Madagascar. It is noted for its fern-like leaves and flamboyant display of orange-red flowers over summer. In many tropical parts of the world it is grown as an ornamental tree and in English it is given the name royal poinciana, flamboyant, phoenix flower,[citation needed] flame of the forest, or flame tree (one of several species given this name).

This species was previously placed in the genus Poinciana, named for Phillippe de Longvilliers de Poincy, the 17th-century governor of Saint Christopher (Saint Kitts). It is a non-nodulating legume.

Delonix regia is a fast-growing tree with an umbrella shaped, spreading crown with the long, nearly horizontal branches forming a diameter that is wider than the tree's height. Usually evergreen, the trees are deciduous in areas where the dry season is long and pronounced. The tree grows 10 - 18 metres tall, with a large, buttressed bole that can attain a girth of up to 2 metres.

The flowers of Delonix regia are large, with four spreading scarlet or orange-red petals up to 8 cm (3 in) long, and a fifth upright petal called the standard, which is slightly larger and spotted with yellow and white. They appear in corymbs along and at the ends of branches. The naturally occurring variety flavida (Bengali: Radhachura) has yellow flowers. The pods are green and flaccid when young, then turn dark-brown and woody as they mature.
They can be up to 60 cm (24 in) long and 5 cm (2 in) wide. The seeds are small, weighing around 0.4 grams (6.2 grains) on average. The compound (doubly pinnate) leaves have a feathery appearance and are a characteristic light, bright green. Each leaf is 30–50 cm (12–20 in) long with 20 to 40 pairs of primary leaflets or pinnae, each divided into 10–20 pairs of secondary leaflets or pinnules. Pollen grains are elongated, approximately 52 µm in size.
Delonix regia is endemic to Madagascar's dry deciduous forests, but has been introduced into tropical and sub-tropical regions worldwide. In the wild it is endangered, but it is widely cultivated elsewhere and is regarded as naturalised in many of the locations where it is grown: America, Europe, Asia, Australia, Africa
Flame tree has become almost extinct in its native range of Madagascar. The main native subpopulations are found in areas that are threatened from charcoal production.
In the Indian state of Kerala, royal poinciana is called kaalvarippoo which means "the flower of Calvary". There is a popular belief among Saint Thomas Christians of Kerala that when Jesus was crucified, there was a small royal poinciana tree nearby his Cross. It is believed that the blood of Jesus Christ was shed over the flowers of the tree and this is how the flowers of royal poinciana got a sharp red color. It is also known as Vaaga in many areas of Kerala.
Its blossom is the national flower of St. Kitts and Nevis,[8] and in May 2018 the royal poinciana was adopted by the city of Key West as its official tree.[9] Known locally as semarak api, Delonix regia is the city flower of Sepang, Selangor, Malaysia.
Edible Uses: Seedpod. The seedpods are up to 50 cm long, 6cm wide, and 5mm thick. Although we have seen no reports that the mature seeds of this plant are eaten, research has shown that they are a potential nutritious food for humans. The seed contains around 17.2% of a sweet-smelling, amber-coloured oil. A gum obtained from the tree is used in the food industry.

Medicinal: The leaves, flowers, seed and bark of this plant contain a range of medicinally active compounds, though the leaves are generally the richest source of most of these compounds.

The plant is reported to have antibacterial, antidiabetic, antidiarrhoeal, antifungal, antiinflammatory, antimalarial, antimicrobial, antioxidant, cardio-protective, gastro-protective, hepato-protective and wound healing activity. It is used in folk medicine to treat a range of disorders, including constipation, inflammation, rheumatoid arthritis, diabetes, pneumonia, and malaria.

Source:
https://en.wikipedia.org/wiki/Delonix_regia
https://tropical.theferns.info/viewtropical.php?id=Delonix+regia