July 2010
Did you know that the tamarillo plant(Cyphomandra betacea) although is native to the Andes, the development of its crop is under way in one country, New Zealand?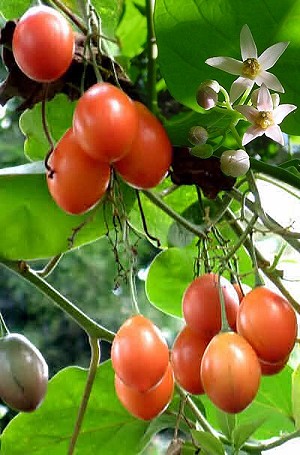 Tamarillo (Cyphomandra betacea) (flowers and fruits)
Tamarillo - Cyphomandra betacea
Solanum betaceum (syn. Cyphomandra betacea) or Tree Tomato is a small tree or shrub in the flowering plant family Solanaceae and it is a relative of the potato, tomato, eggplant and capsicum pepper, It is best known as the species that bears the tamarillo, an egg-shaped edible fruit. Listed among the lost foods of the Incas and known as the Ďtomate de arbolí, tree tomatoes have all but disappeared from their native habitat.
The tamarillo is native to the Andes of Peru, Chile, Ecuador, Colombia, and Bolivia. It is cultivated in Argentina, Australia, Brazil, Indonesia, Kenya, Portugal, the United States and Venezuela. It is grown as a commercial crop for international export in New Zealand and Portugal. The first internationally marketed crop produced in Australia occurred around 1996, although permaculture and exotic fruit enthusiasts had increasingly grown Tamarillo around Australia since the mid 1970s.

Tamarillos were first introduced into New Zealand from Asia in the late 1800ís. Originally only yellow and purple-fruited strains were produced. The red tamarillo was developed in the 1920ís by an Auckland nurseryman from seed from South America. Other red strains appeared soon afterwards and continued re-selection of these by growers has led to the large, high quality varieties being grown commercially today.

Prior to 1967, the tamarillo was known as the "tree tomato" in New Zealand, but a new name was chosen by the New Zealand Tree Tomato Promotions Council in order to distinguish it from the ordinary garden tomato and increase its exotic appeal. The choice is variously explained by similarity to the word "tomato", the Spanish word "amarillo", meaning yellow, and a variation on the Maori word "tama", for "leadership". It is still called Tree Tomato in most of the world.
The fruit can be between 2 and 8 centimeters in length. They are held on the tree in clusters as are many other clustered fruit, such as cherries. The trees are grown from cuttings and are very frost-tender when young. They are shallow-rooted and respond to deep mulching and abundant water. The tree can grow to a little more than 6 meters but it is subject to wind damage and needs shelter. It will bear fruit after two years and a single mature tree in good soil will carry more fruit than a normal family can eat for about 3 months. A well-nourished tree can produce up to 66 kilograms of fruit in a year. When the tree is about 1 to 1.5 meters in height it is advisable to cut the roots on one side and lean the tree to the other (direction of the midday sun at about 30 to 45 degrees). This allows fruiting branches to grow from all along the trunk rather than just at the top.
Plant summer blooming times, as the colors spread like a nice lemon fragrance. They are small and have ornamental value. Crown throughout the year is busy with both newly formed plodcheta naedreli with green and ripens to a different phase so that you always have ready to eat. Tsifomandrata reached impressive size thanks to its characteristic luxuriance. Many are original heart-leaves that resemble the leaves of sunflower. Up to 25 cm long and 20 cm wide, and maybe more. The mass flowering is in May. Then gradually decreases, but continues throughout the year, and in the air always feels pleasant perfume scent.
Certainly the most interesting are the fruit unless they are decorative, they are also very delicious. Because of its sweetness, they rather resemble a fruit tree fruit, not vegetable. Consumed fresh or processed. When consumed fresh, the fruit is cut in half and carved with a spoon without defect. The fruits contain vitamin A, vitamin C and are rich in vitamin E and iron. Are oblong in shape, long to 5-6 centimeters. A weight reaches 80-100 g mass begins to ripen in October.
The flesh of the tamarillo is tangy and mildly sweet, and may be compared to kiwifruit, tomato, or passion fruit. The skin and the flesh near it have an unpleasant bitter taste, and usually aren't eaten raw.
Salad of them is typical recipe, because malt and a slight perfume flavor. They give a unique flavor when made into a compote. Rather they can prepare jams, marmalades and jams with a minimum amount of sugar without flavoring and spices. In Colombia, Ecuador and Sumatra, fresh tamarillos are frequently blended together with water and sugar to make a juice. It is also available as a commercially pasteurized puree.

Source:
http://en.wikipedia.org/wiki/Tamarillo
http://www.tamarillo.com/history/
http://en.cvetq.info/news.php?extend.176.23