July 2018
Did you know that the flowers of Solandra maxima are truly spectacular, shaped like a chalice, 15-25 cm long, flaring open to 17 cm across?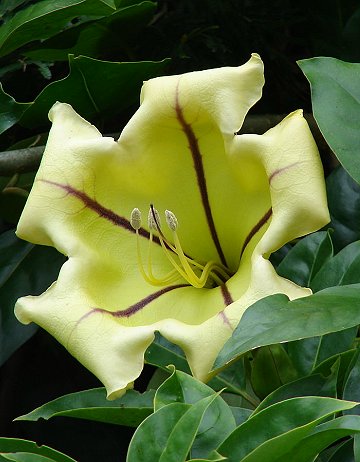 Solandra (Solandra maxima).
Solandra - Solandra maxima
Solandra is a genus of flowering plants in the nightshade family, Solanaceae. It is named after the Swedish naturalist Daniel C. Solander. The vines it contains are commonly known as chalice vines and are native to the Caribbean, Mexico and South America. They have very large flowers and glossy foliage. Also called Cup of Gold.

There are eight species of chalice vines, and they often are confused in the trade. Solandra maxima is the most common species in cultivation and vines offered as S. guttata and S. grandiflora may in fact be this one. The differences are subtle.
Solandra maxima, also known as cup of gold vine, golden chalice vine, or Hawaiian lily, is a vigorous vine which is endemic to Mexico and Central America. It has very large yellow flowers and glossy leaves.


Cup of gold, sometimes called chalice vine, is a heavy, thick stemmed tropical liana with large shiny leaves and large bell shaped golden yellow flowers. The thick and woody ropelike stems branch frequently and root at their nodes, and can run for more than 200 ft (61 m), clinging with aerial rootlets and scrambling over everything in the way.
The evergreen leaves are leathery, about 6 in (15.2 cm) long and elliptic, with prominent lighter colored midribs and lateral veins.
The flowers are truly spectacular, shaped like a chalice, 6-10 in (15.2-25.4 cm) long, flaring open to 4-7 in (10.2-17.8 cm) across. The five lobes of the corolla are reflexed, and each lobe is marked with a narrow purplish brown ridge on the inside. The flowers start out yellow and turn deeper golden as they age. They are fragrant, especially at night, with a scent reminiscent of coconut. Cup of gold blooms intermittently through the year, but mainly in the winter dry season.
The fruits, rarely seen in cultivation, are round berries, about 2 in (5.1 cm) in diameter.
Solandra is rich in Tropanalkoide, some of which have a strong hallucinogenic effect. In Mexico, Solandra species are mainly used as a love potion and aphrodisiac.
Solandra grandiflora was once (and likely still is) used by the Huichol of Mexico and other tribes of the region where it is known by the name "kieli" or "kieri" with some archaeological evidence supporting the theory that its use as a hallucinogen predates that of "Peyote" (Lophophora williamsii). A tea from the branches and more so from the roots and fruits is used as an inebriant in native traditions. The alkaloids present include atropine, noratropine, hyoscyamine, and tropine with about 0.15% overall content in the leaves.

Source:
https://en.wikipedia.org/wiki/Solandra
https://floridata.com/Plants/Solanaceae/Solandra+maxima/889