May 2003
Did you know that Dipladenia sanderii has not been found growing wild in nature since the end of the nineteenth century?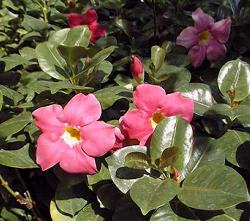 Dipladenia (Dipladenia sanderii)
Dipladenia (Dipladenia sanderii)
Dipladenia sanderii or Brazilian Jasmine is a plant belongs to genus mandevilla. The genus Mandevilla consists of more than 100 species of woody twining vines and shrubs, native to tropical America. The name Mandevilla is in honor of the nineteenth century British Minister in Buenos Aires, Henry John Mandeville. The name sanderii named for Henry Frederick Conrad Sander, early 20th century German-born British nurseryman who specialized in orchids.
Dipladenia or Mandevilla sanderii is a very different looking and growing plant from other mandevillas. Botanically they are all mandevillas, but tradionally this plant has been called dipladenia. Dipladenias have smaller leathery leaves and have very little climbing habit. Usually they are grown as a container plant or a semi-hanging basket. The original original dipladenias were a very pale pink flower and it was discovered in the highlands above Rio de Janeiro Brazil toward the end of the nineteenth century and has not been found in the wild since. History indicates that perhaps only one plant was found and it is not found growing in nature down there now. Probably all condo's!!
Dipladenias have come a long way from the original pale pink. We now have Red Riding Hood in a cherry pink/red, Scarlett Pimpernel with a brighter. These Dipladenias are sports from a hybrid of M. xamabilis and M. sanderi. A sport is a plant that is significantly different from its parents due to mutation rather than hybridization due to cross-pollination. Rather than a vine, Dipladenia is a sprawling shrub that can be trained on a trellis, but also looks and does fine as a shrub. The dark green, glossy leaves are only about 2 inches long and are ovate or elliptic in shape. Dipladenia will bloom whenever the temperature is above 50 degrees fahrenheit at night. The showy, rose-pink, tubular flowers are borne laterally in clusters of 3 to 5. Each flower is nearly 2 inches long by 2Ĺ to 3 inches across, very deep pink to red blossoms with a deep yellow throat. The flowers are shaped like a typical mandevilla except fort the petals being somewhat curved backward at their tips.

Source:
http://www.butterflies.org/hortcltr3.cfm?plantID=97
http://www.weidners.com/dipladenia.html
http://sd1new.net/GardenPages/dipladenia.htm