January 2015
Did you know that the forest of Arrayan trees (Luma apiculata) in Patagonia inspired Walt Disney for the scenography of the movie "Bambi"?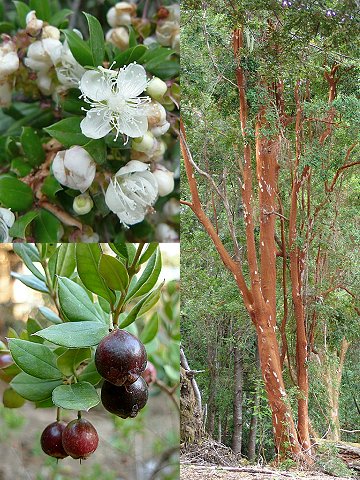 Chilean myrtle - Arrayan (Luma apiculata). Tree, leaves, flowers and fruit.
Chilean myrtle - Arrayan - Luma apiculata
Luma apiculata (Chilean myrtle) is a species of flowering plant in the myrtle family, native to the central Andes between Chile and Argentina, at 33 to 45° south latitude. Growing to 10–15 m (33–49 ft) tall and wide, it is a vigorous, bushy, evergreen tree with fragrant flowers.
The scientific name Luma is derived from a Mapuche name. Over the years this species has been classified variously by botanists; the first scientific description was by Augustin Pyramus de Candolle in 1828, as Eugenia apiculata. In iIts common names one can add Temu Tree. And in Spanish it is Palo Colorado. The most common name in Chile is Arrayan (from a Spanish name for the related European myrtle); another is Collimamul (meaning orange wood).
The Chilean myrtle grows slowly, forming a small tree of around 10 to 15 m, rarely 20 m. Its trunk appears twisted and contorted and has smooth bark, coloured grey to bright orange-brown, which peels as the tree grows. It is evergreen, with small, fragrant, oval leaves 2.0 to 2.5 cm long and 1.5 broad. The leaves, borne on fuzzy twigs, are in opposite pairs on very short stalks, measure from about a half-inch to almost 2 inches long, terminating in a raspy little point (hence the name apiculata). When crushed they exude a sweet spicy aroma. In June or July masses of flowers appear; a few persist into autumn. These are about three-fourths of an inch wide, consisting of 4 cupped white petals around many stamens, the latter pink. By fall the berries are shiny deepest dark purple-black, juicy, and ripe for eating. They are about the size of blueberries.
The Chilean myrtle grows along water currents in the Valdivian temperate rain forests in Chile, while in Argentina it grows from Neuquen south to the Chubut River. The main forests are on the Quetrihue Peninsula (Mapuche for 'myrtles') and on Isla Victoria on the Nahuel Huapi Lake, within the Los Arrayanes National Park and Nahuel Huapi National Park, respectively, in Argentina. It can be also found in lesser numbers along the Arrayanes River in Los Alerces National Park. Trees in these protected areas are up to 650 years old. The notable Chilean myrtle forest of the Los Arrayanes National Park covers 20 ha of the Quetrihue Peninsula, where the cinnamon-coloured myrtles leave almost no space for other trees. It is said that this forest inspired Walt Disney for the scenography of the movie Bambi.
People treasure it as an ornamental because it is so attractive. It is also grown in gardens and as bonsai as a decorative plant for its glossy evergreen foliage, in beautiful contrast to the slender red stems.. It has become naturalised in parts of Ireland and western Great Britain and it has been planted in Spain. It was introduced to cultivation in the northern hemisphere in 1843-44, when botanist and plant hunter William Lobb sent seeds to England. It was cultivated in California by 1897, and was being sold in nurseries there by 1909 if not earlier.
William Lobb sent seeds to England and so introduced the lovely plant with the cinnamon colored trunk to cultivation in Europe around 1844.
The edible fruit have a sweet flavor and can be consumed raw or cooked. The flavour and texture can vary considerably from plant to plant, the best are juicy, succulent, sweet and aromatic with a delicious taste, though the fruit can be dry and almost tasteless.
Its fruit is appreciated in Chile and Argentina and its flowers are important for honey production. The Chilean myrtle has medicinal uses for the Mapuche people and its hard wood is made into tool handles, furniture and the like.

Source:
http://en.wikipedia.org/wiki/Luma_apiculata
http://www.arthurleej.com/p-o-m-Dec06.html
http://zoom50.wordpress.com/2011/10/24/arrayanchilean-myrtleluma-apiculata/