June 2017
Did you know that Snake fruit is called the Fruit of Memory in Indonesia due to its levels of potassium and pectin?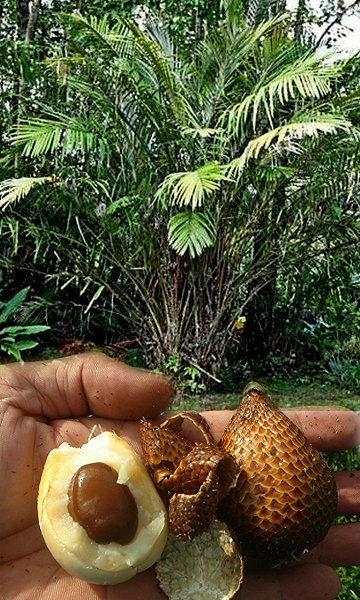 Salak (Salacca zalacca). Plant and fruits.
Salak - Salacca zalaccalla
Salak (Salacca zalacca) is a species of palm tree (family Arecaceae) native to Java and Sumatra. It is cultivated in other regions as a food crop, and reportedly naturalized in Bali, Lombok, Timor, Malaysia, Maluku and Sulawesi.
The palm has a very short trunk with pinnate fronds that grows in the rain forest as an understory tree. A relatively small, very spiny, creeping and tillering, almost stemless palm reaching 1-5 m in height, growing in compact clumps caused by successive branching at the base. Each leaf has a 2-metre long petiole with spines up to 15 centimetres long, and numerous leaflets. The leaf sheaths, petioles and leaflets are covered with numerous long spines.
The plant is dioecious. The inflorescence is composed of several axillary spadices, surrounded by a spathe. The male inflorescence is 50-100 cm long and consists of 4-12 spadices each measuring 7-15 cm long. The female inflorescence is 20-30 cm long and composed of 1-3 spadices of 7-10 cm long.
The fruits grow in clusters at the base of the palm, and are also known as snake fruit due to the reddish-brown scaly skin. They are about the size and shape of a ripe fig, with a distinct tip. The pulp is edible ŠŪš tastes like pineapple.
The fruit can be peeled by pinching the tip, which should cause the skin to slough off so it can be pulled away. The fruit inside consists of three lobes with the two larger ones, or even all three, containing a large inedible seed. The lobes resemble, and have the consistency of, large peeled garlic cloves. The taste is usually sweet and acidic, with a strong astringent edge, but its apple-like texture can vary from very dry and crumbly (salak pondoh from Yogyakarta) to moist and crunchy (salak Bali).
The ripe fruit is mostly eaten fresh. It can be candied or canned and unripe fruits are used as pickles. The seed kernels of the young fruits of the Javanese 'Pondoh' form are edible.
Snake fruit is called the Fruit of Memory in Indonesia due to its levels of potassium and pectin, which are both important nutrients for brain health and development.
Salak palm occurs at elevations between sea level and 500 m in the humid tropics throughout the Malay Archipelago Named for the volcano, Mount Salak in West Java, Indonesia.
Beware, it is a spiny palm though, when you see this palm, you will know why it is commonly used as a living fence in Asia. The bark of the petioles may be used for matting.
It is certainly not the most decorative palm tree with its bald lower trunk and fierce thorns trunk but if you find fruit at a local market, you can have fun by sowing the seeds. It is a very fast grower.

Source:
https://en.wikipedia.org/wiki/Salak
http://www.growables.org/information/TropicalFruit/PalmSalak.htm
https://myjunglegarden.com/2014/05/salacca-zalacca/#.WS1xq9G1sdU