February 2008
Did you know that the heather plant Cassiope is named after queen Cassiopeia of Greek mythology?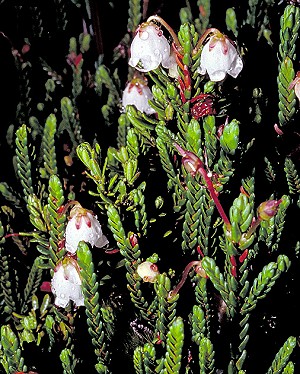 Cassiope (Cassiope tetragona)
Cassiope - Cassiope Spp.
Cassiope is a genus of 9-12 small shrubby species in the family Ericaceae. This group of hardy, dwarf, evergreen shrubs are natives of the Himalayas, Asia, North America, North Europe and Arctic. Common names, shared with several other similar related genera, include heather and heath. They are usually found in dry stony or sandy heaths or tundra-usually in mountainous areas.
These plants do better in cool climates where summers aren't too warm. They can withstand temperatures as low as -35o C. Cassiopes are suitable for growing in shady or semi-shady places of the rock garden or shrub border. They require dry, moist, lime-free, well-drained soil. These plants have tiny, compact, overlapping leaves and solitary, bell-shaped flowers that resemble Lilies-of-the-Valley. The flowers are hermaphrodite (have both male and female organs) and are pollinated by insects.
The genus is named after Cassiopeia of Greek mythology. Cassiopeia also is a northern constellation which Greek mythology considered to represent the vain queen Cassiopeia who boasted about her unrivaled beauty. The Queen Cassiopeia, wife of King Cepheus of the mythological Phoenician realm of Ethiopia, and mother of Andromeda was beautiful but also arrogant and vain; these latter two characteristics led to her downfall.
Cassiope mertensiana is a species of flowering plant known by the common names western moss heather and white mountain heather. This heather is native to subalpine areas of western North America, from Alaska to the mountains of California. It is a small, branching shrub which forms patches along the ground and in rocky crevices. The short, erect, snakelike stems are covered in tiny leathery scalelike leaves only a few millimeters long. From between the layers of scale leaves emerge reddish pedicels each bearing a petite, hanging, down-facing, bell-shaped flower. The bractlets are red and the contrasting flower is white.
Cassiope tetragona (common names include Arctic bell-heather, white arctic mountain heather and Arctic white heather) is a plant native to the high Arctic and northern Norway, where it is found widely. It grows on ridges and heaths, often in abundance and forming a distinctive and attractive plant community.

Growing to 10–30 cm in height, it is a strongly-branched dwarf shrub. It is in leaf all year, in flower from April to May. The leaves are grooved, evergreen, and scale-like in 4 rows. Pedicels are long and arched. The plant bears bell-shaped, solitary flowers usually with white and pink lobes and pink anthers. The flower stalks and sepals are red, but the petals may also be yellowish-white. The anthers can also be brownish-yellow and flower stalks and sepals yellowish-green.

The plant, combined with mosses and lichens, has been used as an insulation material in houses The plant makes a good tinder. In Greenland, the plant is important as fuel. Considering the size of the plant (up to 30cm), this use must be born out of desperation in areas with very few woody plants.

Source:
http://en.wikipedia.org/wiki/Cassiope
http://www.botany.com/cassiope.html
http://www.iflorist.co.uk/p-1358-cassiope.aspx
http://en.wikipedia.org/wiki/Cassiopeia_(constellation)