May 2006
Did you know that lobelia contains a substance called lobeline which has been used as a nicotine substitute in antismoking treatment?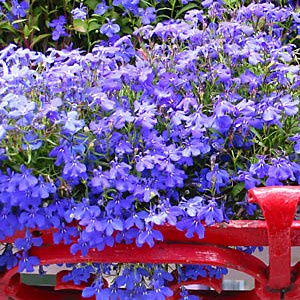 Annual lobelia (Lobelia Erinus)
Lobelia - (Lobelia spp.)
Lobelias are hardy and tender, annuals and perennials that grow wild in various parts of the Northern and Southern Hemispheres. There are over 200 species, but comparatively few are grown in the garden. Those mainly grown range in size from the dwarf, compact annuals, which only grow a few inches high, to the perennials, which grow 3 feet or more high.
The popular Lobelias that are used for summer bedding, have been raised from L. Erinus, a blue-flowered variety. Lobelia Erinus was introduced to Europe and America more than 200 years ago from the region around the Cape of Good Hope. The original wild forms of lobelia have been bred to bloom more profusely. The wild plant is straggling and grows about 6 inches high, but the varieties raised are compact and flower profusely in shades of blue, white, purple and crimson with white eyes. Even though they are perennials, they are grown as annuals.

Perennial Lobelias are upright, thick stemmed plants. They produce rich green or crimson foliage and large flowers, usually bright scarlet, although there are now many varieties in pink and mauve hues and some have blue flowers. These plants come from North America.
Native North American species, often cultivated as ornamentals, include the only red lobelia, the cardinal flower (L. cardinalis), which is becoming rare; the blue lobelia (L. syphilitica), used by Native Americans for the treatment of syphilis; and Indian tobacco (L. inflata), named for its odor.
The origin of the name, Lobelia cardinalis, was named after the Belgian botanist, Mathias de L'Obel who died in London in 1616. He often used a "latinized" form of his name Lobelius. The name cardinalis was inspired by the color of the robes of the Roman Catholic cardinals.

Lobelia cardinalis was first found by explorers in Canada who sent the plant to France in the mid-1620's. English botanist John Parkins wrote "the rich crimson cardinal flower… it groweth neere the river in Canada, where the French plantation in America is seated" from then on Lobelia cardinalis was known as the cardinal flower.
The dried leaves and stems of Indian tobacco (L. inflata) and sometimes of other species furnish medicinal lobelia, the source of lobeline, which is used as a respiratory stimulant but is poisonous in overdose as are the roots.
It is widely stated that the alkaloid lobeline, is similar to nicotine in its effect on the body. Like nicotine, it stimulates nerves in the central nervous system. In fact, lobeline has been used as a nicotine substitute in many anti-smoking products and preparations designed to break the smoking habit. In 1993, however, the U.S. Food and Drug Administration (FDA) prohibited the sale of lobeline-containing smoking products because, according to the FDA report, they lacked effectiveness in helping people quit or reduce smoking.Ôhis belief appears to be a type of urban legend.
Source:
http://www.botany.com/lobelia.html
http://education.yahoo.com/reference/encyclopedia/entry/lobelia
http://medplant.nmsu.edu/cardinalis.htm
http://www.umm.edu/altmed/ConsHerbs/Lobeliach.html