February 2007
Did you know that contorted hazel (Corylus avellana Contorta) is a natural mutant of comon hazel and was discovered growing in an English hedgerow in the 1860?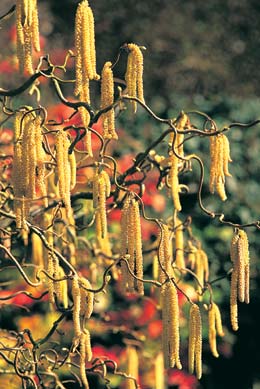 Contorted hazel - Corylus avellana Contorta
Contorted hazel - Corylus avellana Contorta
The genus Corylus consists of about ten hardy, deciduous, large shrubs or small trees from the temperate regions of the Northern Hemisphere. These plants are commonly known as Filberts, Hazels, or Hazelnuts. Many varieties are grown for their edible nuts, while others are grown for ornament. The most important kinds grown for their nuts are the Filberts, which are varieties and hybrids of C. avellana and C. maxima. C. maxima var. Purpurea (Purple-leaves Filbert) is a large shrub with beautiful, rounded, purple leaves. C. avellana (European Filbert) is a large shrub or small, multi-stemmed tree.
Though C. avellana produces small, round nuts known as cobnuts, the filbert (Corylus maxima) bears larger nuts that ripen earlier in the season. Filberts, which are native to the Balkans. They traditionally collected and brought into church on August 22 - Saint Philibert's Day - hence the ancient name of filbert.

Of the 10 species of hazel spread across the temperate areas of the Northern hemisphere, only one reaches tree-like proportions - the Turkish hazel (Corylus colurna). This tree has a fissured, corky trunk supporting a pyramidal crown and is often planted as a formal feature.
Propagation can be by seed, tip-layering or radical suckers and cutting. Hazels will grow in shade as well as in full sunlight and are lime-tolerant. Grows 15 ft in 20 years.

The nuts were of course eaten. It is rich in fatty oils and vitamins. Weight for weight they contain 50% more protein, 7x more fat and 5x more carbohydrate than hen's eggs. The oil is multi-usable and has been employed for cooking or dressing salads, as well as in oil paints, as a machine lubricant and in making perfumery and cosmetics.
The wood of the Hazel is not long lasting, but since Hazel rods are extremely pliable (and abundant), they have been used for a great variety of purposes: basket work, wattle and daub frames, hurdles to pen sheep and other fencing panels, thatching spars, coracle frames (Coracles are the Celtic basket like boats), bender poles (a bender is a temporary tent as used by travelers, peace protesters and so on), hoops, fishing rods, walking sticks, broom handles and so on. Forked hazel twigs are traditionally used for water divining.
C. avellana var. Contorta (Harry Lauder's Walking Stick) is an interesting, picturesque shrub that slowly reaches a height of up to 10 feet. This shrub features twisted and spiraling branches, twigs and leaves. Monoecious (separate male and female flowers on the same plant). Male flowers appear in spring in showy, 2-3" long, yellowish brown catkins. Female flowers are insignificant. Although the species is commonly grown commercially for nut production, this cultivar usually does not produce fruits (nuts). Round, double-toothed, light green leaves (2-3" long) typically turn an undistinguished yellow in fall. After leaf drop, the contorted form of the branches becomes quite noticeable and provides winter interest.
This shrub needs careful attention to pruning for it to develop into an attractive plant, rather than a gnarled mess. It is beneficial to leave a few main stems only so that their twists are clearly defined. This shrub also produces pretty catkins in the winter.
The name Corylus -Korylos was the Greek name for a Hazelbush, and the name 'Avellana' is thought to refer to Avella Vecchia, a city in Southern Italy, finely situated in fertile territory and its nuts (nuces Abellanae) and fruit were renowned in roman days. The variety name Contorta refer to contorted shape of the plant.
This intricate form of this hazel in the early 1860s. An eminent Victorian gardener, Canon Ellacombe of Bitton, spotted the tangled stems and propagated the plant to amuse his friend Edward Augustus Bowles.

Bowles loved plant curiosities and aberrations enough to dedicate part of his large garden near Enfield, Middlesex, to his oddities. His original plant - the first contorted hazel in cultivation - still grows in the 'Lunatic Asylum' (as Bowles named it) at Myddelton House today.

Once established in Bowles's garden, other famous gardeners admired its sculptural, bonsai-like charms. In the early years of the 20th century it acquired another name - Harry Lauder's Walking Stick - after the popular Scottish entertainer. Sir Harry Lauder (1870-1950) was a Scot & a leading music hall entertainer who sang lovely ballads & told jokes on himself. He was greatly beloved in his day, & was knighted by King George V for service to the country in the first World War, wherein his only son was killed.
Corkscrew hazel is a natural mutant of wild hazel, carrying a mutation that produces contorted shoots and distorted leaves. The mutation causing the abnormal growth is not transmitted via the seeds, so the plant can only be grown from cuttings, or via grafts onto normal hazel rootstocks.
The contorted hazel makes an excellent container plant and can be combined with spring bulbs and hellebores in a winter-to-spring arrangement, where - with care - it will survive for many years. One of the winter highlights in a garden is the gnarled silhouette of the "corkscrew hazel" - Corylus avellana 'Contorta'. In low sunshine, the pale sky provides the perfect backdrop for its dark and tortuously twisted branches.
Source:
http://www.botany.com/corylus.html
http://www.the-tree.org.uk/BritishTrees/TreeGallery/hazelc.htm
http://www.telegraph.co.uk/gardening/
main.jhtml?xml=/gardening/2002/01/19/ghow19.xml