March 2016
Did you know that the milky latex extracted from the Hevea brasiliensis tree is the primary source of natural rubber?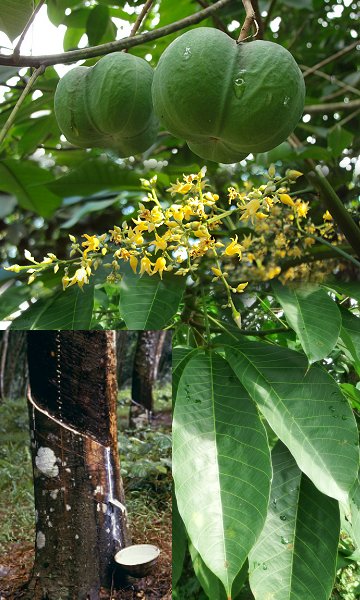 Rubber Tree (Hevea brasiliensis). Leaves, flowers, fruits and latex.
Rubber Tree - Hevea brasiliensis
Hevea brasiliensis, the Para rubber tree, sharinga tree, or, most commonly, the rubber tree, is a tree belonging to the family Euphorbiaceae. It is the most economically important member of the genus Hevea. It is of major economic importance because the milky latex extracted from the tree is the primary source of natural rubber.
Hevea brasiliensis is native to rainforests in the Amazon region of South America, including parts of the Amazon Basin, Matto Gross and the Guianas of Brazil, Venezuela, Ecuador, Colombia, Peru and Bolivia. These trees are generally found in low-altitude moist forests, wetlands, riparian zones, forest gaps and disturbed areas. It is a quick growing tree, often the first to establish itself when a gap in the canopy is produced but may be shaded out as more trees fill in the canopy opening. Today, commercially produced rubber can also be found throughout much of Southeast Asia and Western Africa, but most of the world's rubber comes from plantations in Indonesia, Thailand and Malaysia. Although rubber is still tapped from wild trees in the Amazon basin, production in South American plantations is hampered by a fungal disease known as South American leaf blight.
Hevea brasiliensis is a deciduous tree, typically 30-40 m tall, though usually 15-25 m tall in cultivation, with a leafy crown. The trunk is cylindrical, but frequently swollen towards the base, and the bark is pale to dark brown with a smooth surface and the inner bark pale brown with abundant white or cream coloured latex. The leaves are in spirals and with three leaflets. The flowers are small with no petals, bright or cream-yellow in colour and extremely pungent. They are either male or female but both are found in the same inflorescence. The fruit is an exploding 3-lobed capsule.

Its most famous feature is the milky white sap, known as latex, which flows freely from the tree when a sliver of bark is removed. The white or yellow latex occurs in latex vessels in the bark, mostly outside the phloem. These vessels spiral up the tree in a right-handed helix which forms an angle of about 30 degrees with the horizontal, and can grow as high as 14 -15 m. A rubber tree, also referred to as rubberwood, can be tapped for latex once it reaches approximately six years of age. In order to reproduce, the fruit of the rubberwood burst open when ripe, scattering its many seeds in an area spanning up to 100 feet from the tree.

In the wild, trees may grow to over 40 m and live for 100 years, but in plantations they rarely exceed 25 m because growth is reduced by tapping for rubber. Plantation trees are usually replanted after 25-35 years when yields fall to an uneconomic level.
This is a tropical tree and requires hot temperatures, high humidity and well-drained, fertile soils. Fruits burst open when they are ripe and the seeds are scattered up to 33 m from the tree. Seed viability drops rapidly as soon as fruits are collected. Best results are obtained with fresh seed grown in partial shade.
The milky latex of Hevea brasiliensis, produced by a specialised secretory system in the phloem, is the raw material for natural rubber. The latex is a renewable resource that can be sustainably tapped without harming the tree. Rubber is water-resistant, does not conduct electricity, is durable and most importantly, is highly elastic. These useful properties are due to the large and complex molecular structure of rubber.

Rubber has been used for centuries, but its versatility was greatly improved by a process developed in the nineteenth century, vulcanisation, in which the rubber is treated with sulphur and heat. Natural rubber is used in thousands of ways, from bouncing balls, boots, balloons and latex gloves, to engineering and industrial applications. Natural rubber is more suitable than synthetic rubber for the tyres of aircraft and space shuttles.

Felled plantation trees are used for timber – rubberwood – which has important uses in the furniture industry. The seeds contain oil that can be used in making paints and soaps.
These trees were used to obtain rubber by the ancient natives Olmec, Maya and Aztec who inhabited its geographical distribution. The Olmec people of Mesoamerica extracted and produced similar forms of primitive rubber from analogous latex-producing trees such as Castilla elastica as early as 3600 years ago. The rubber was used, among other things, to make the balls used in the Mesoamerican ballgame, to waterproof clothes and even to form homemade shoes. Today, the latex sap from the rubber tree is still used in the modern processing of rubber and is often a substantial source of income for indigenous populations.
The Para rubber tree initially grew only in the Amazon Rainforest. Increasing demand and the discovery of the vulcanization procedure in 1839 led to the rubber boom in that region, enriching the cities of Belem and Manaus. The name of the tree derives from Para, the second-largest Brazilian state, the capital of which is Belem.
Early attempts were made in 1873 to grow H. brasilensis outside Brazil. After some effort, 12 seedlings were germinated at the Royal Botanic Gardens, Kew. These were sent to India for cultivation, but died. A second attempt was then made, some 70,000 seeds being smuggled to Kew in 1875, by Henry Wickham, at the service of the British Empire. About 4% of these germinated, and in 1876, about 2000 seedlings were sent, in Wardian cases, to Ceylon (modern day Sri Lanka) and 22 were sent to the Botanic Gardens in Singapore. Once established outside its native country, rubber was extensively propagated in the British colonies. Rubber trees were brought to the botanical gardens at Buitenzorg, Java, in 1883. By 1898, a rubber plantation had been established in Malaya, and today, most rubber tree plantations are in South and Southeast Asia, with some also in tropical West Africa.

Source:
https://en.wikipedia.org/wiki/Hevea_brasiliensis
http://www.rainforest-alliance.org/kids/species-profiles/rubber-tree
http://www.kew.org/science-conservation/plants-fungi/
hevea-brasiliensis-rubber-tree