July 2002
Did you know that the pond plant Wolffia arrhiza is the smallest flowering plant in the world, so small that you could fit 25 of them across your fingernail?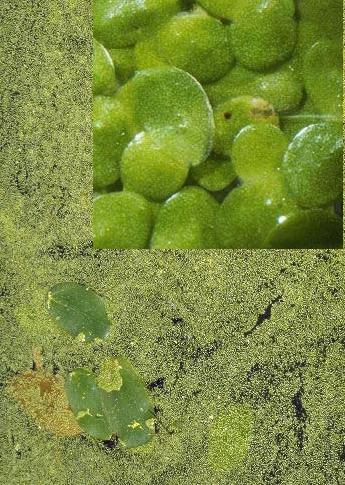 Wolffia arrhiza
Wolffia arrhiza
Wolffia arrhiza belongs in Lemnaceae family These plants are the smallest plants in the world. They look like green grains floating in the water. The most common is W. arrhiza, Water Meal or Rootless Duckweed. It is native to Africa, Brazil, Western Asia and Europe. This plant isn't grown in the water garden purposely, but can sometimes be found in portions of other aquatic plants. This plant can become very troublesome in natural ponds; turning the water bright green.
Wolffia arrhiza, a small floating plant, in flowers, without root. The shape of plant body is ovoid to nearly spherical with a distinctly flattened, dark green dorsal surface, floating with only central portion of dorsal surface above water; without brown pigment cells. Its size is 0.8-1.3 mm long without veins. This plant is so small you could fit 25 of them across your fingernail. The flower is one funnel-shaped pouch at basal end, within floral cavity on dorsal surface, not enclosed by a spathe.
The plant is Floating at surface of quiet streams and ponds, often mixed with other Lemnaceae and aquatic plants.
Wolffia arrhiza has traditionally been eaten in Myanmar, Laos, and northern Thailand (Bhanthumnavin and McCarry 1971). The duckweed cultivated in these areas is sold on local markets, however, since it is regarded as the "poor man's food", interest is apparently declining.The use of Lemnaceae for human consumption has surprisingly not spread to other regions of the world. A possible explanation could be its high content of crystallised oxalic acid which has a negative effect on the taste. Another factor contributing to the low interest in duckweed as a potential food product for human consumption could be attributed to the fact that it is difficult to separate associated (pathogenic) organisms such as worms, snails, protozoa, and bacteria from the plant.
Source:
http://www.botany.com/wolffia.html
http://www.i55mall.com/aquaponics/2001/08/20010827.html
http://waynesword.palomar.edu/woar.htm