December 2010
Did you know that the roots of Reseda species have been used to make a yellow dye since the first millennium BC?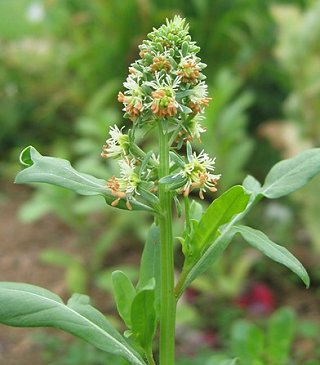 Reseda - Mignonette - Reseda odorata (flowers)
Reseda - Mignonette - Reseda spp.
Mignonette (Reseda) is a genus of fragrant herbaceous plants native to the Mediterranean region and southwest Asia, from the Canary Islands and Iberia east to northwest India. The species include annuals, biennials and perennials, and grow to 40-130 cm tall. The leaves form a basal rosette at ground level, and then spirally arranged up the stem; they can be entire, toothed or pinnate, and range from 1-15 cm long. The flowers are produced in a slender spike, each flower small (4-6 mm diameter), white, yellow, orange, or green, with four to six petals. The fruit is a small dry capsule containing several seeds.

Mignonette flowers are extremely fragrant. It is grown for the sweet ambrosial scent of its flowers. It is used in flower arrangements, perfumes and potpourri. A Victorian favourite, it was commonly grown in pots and in window-boxes to scent the city air. It was used as a sedative and a treatment for bruises in Roman times. The volatile oil is used in perfumery.
Reseda odorata is a species of flowering plant in the reseda family known by many common names, including garden mignonette and common mignonette. It is probably native to the Mediterranean Basin, but it can sometimes be found growing in the wild as an introduced species in many parts of the world. These introductions are often garden escapees; the plant has long been kept as an ornamental plant for its fragrant flowers, the essential oil of which has been used in perfumes. This is an annual herb producing branching erect stems to 80 centimeters in maximum height. The inflorescence is a spikelike raceme of many flowers. The fragrant flower has six white to yellowish or greenish petals, the upper ones each divided into three narrow, fingerlike lobes. At the center of the flower are up to about 25 stamens tipped with large dangling orange anthers. Propagation is by seed, which is surface-sown directly into the garden or grass verge. The plant does not take well to transplanting and should not be moved after sowing.

Reseda lutea or Wild Mignonette is a species of fragrant herbaceous plant. Its roots have been used to make a yellow dye called "weld" since the first millennium BC, although the related plant Reseda luteola was more widely used for that purpose.The yellow dye was obtained from the roots of R. luteola by the first millennium BC, and perhaps earlier than either woad or madder. Use of this dye came to an end at the beginning of the twentieth century, when cheaper synthetic yellow dyes came into use. A native of Eurasia and North Africa, the plant is present on other continents as an introduced species and a common weed. In Australia it is a noxious weed and pest of agricultural crops. Other common names include Weld (R. luteola), Dyer's Rocket, Bastard Rocket and Sweet Reseda.
The closest wild relative of Reseda odorata is Reseda phyteuma L., whose native range covers the Mediterranean region, including Algeria, Morocco, Portugal, Spain, southern France, Italy and the Balkans. In these countries it is regarded as a minor weed of cleared ground, having low ability to compete with crops.
Reseda odorata was introduced to England around 1750 (Miller, 1754), and within a decade had become so popular that Miller (1759) reported that unscrupulous seedsmen were supplying R. phyteuma as a substitute. However, he also made the interesting observation that some gardeners believed their plants had degenerated into a scentless form over several generations.
Abdallah & De Wit (1978) first proposed that R. odorata is a domesticated derivative of R. phyteuma, and suggested that early agriculturists tolerated R. phyteuma in their gardens and gradually selected it for more attractive flowers and a stronger fragrance. This domestication process was believed to have occurred around Egypt and Libya, as plants of the Reseda odorata/phyteuma complex have been cultivated in Egyptian flower gardens since the Roman period. However, there is no evidence of their use in earlier times: no plant resembling a Reseda appears in the thorough reviews of the archaeological evidence for ancient Egyptian flower gardening by Manniche (1989) or Kantor (1999). By the first century CE they were widely grown for their perfume in the Roman and Hellenistic cultures around the Mediterranean. The plant phyteuma mentioned by Dioscorides as an aphrodisiac is likely to be Reseda phyteuma, which has a faint musky scent reminiscent of the mammalian pheromone androsterone. Pliny described a plant widely grown for its aphrodisiac scent which was also used in treating bruises - for this reason he gave it the latin name reseda, meaning a healer or restorer.

Source:
http://en.wikipedia.org/wiki/Reseda_(plant)
http://en.wikipedia.org/wiki/Reseda_odorata
http://members.ozemail.com.au/~davcooke/reseda.htm