September 2008
Did you know that mixed Sedums mats are the most popular covering material for the famous green roofs?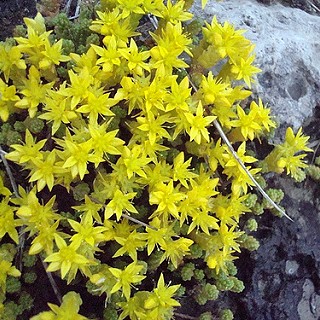 Sedum (Sedum acre)
Sedum - Sedum spp.
Sedum is the large stonecrop genus of the Crassulaceae, representing about 400 species of leaf succulents, found throughout the northern hemisphere, varying from annual groundcovers to shrubs. The plants have water-storing leaves and a typical form of blossom with five petals, seldom four or six. There are typically twice as many stamens as petals.

Well known European Sedums are Sedum acre, Sedum album, Sedum dasyphyllum, Sedum reflexum (also known as Sedum rupestre) and Sedum hispanicum.

Many sedums are extensively cultivated as garden plants, due to their interesting and attractive appearance and hardiness. The various species differ in their requirements; some are cold-hardy but do not tolerate heat, some require heat but do not tolerate cold. The water-retaining properties of Sedum leaves allows them to be used as drought resistant plants. Creeping stonecrops can be planted in cracks in paving and tolerate being walked on occasionally. Any bits that break off will likely find a crack to root in. S. spectabile and S. telephium provide useful flower colour in the garden in late summer and early autumn. Numerous cultivars are available.
Sedum acre, the Goldmoss Stonecrop, Goldmoss Sedum, Biting Stonecrop or Wallpepper, is a perennial plant native to Europe, but also naturalised in North America. This plant grows as a creeping ground cover, often in dry sandy soil, but also in the cracks of masonry. It grows well in poor soils, sand, rock gardens,and rich dirt; and in a variety of light conditions. It does not thrive in dense shade with limited water.

The leaves are simple, smooth-margined, and succulent. The flowers are yellow, Spring-blooming, in sprays held above the foliage. It spreads when allowed to do so, but is easily removed as it has shallow roots. It is lovely in hanging baskets and container gardens as a trailing accent, as borders, or as groundcover.
In some countries, Sedums have been used as green roof coverings, a trend that seems likely to continue. Ready-grown mats of mixed Sedums are grown commercially for this purpose. They are preferred to grass for green roofs, popular in Germany and some other countries.

Sedum species are used as food plants by the larvae of some Lepidoptera species including Grey Chi. In particular, Sedum spathifolium is the host plant of the endangered San Bruno elfin butterfly of San Mateo County, California.

Sedum reflexum, known as "prickmadam," "stone orpine," or "crooked yellow stonecrop," is occasionally used as a salad leaf or herb in Europe (incl. the United Kingdom). It has a slightly astringent sour taste. The edible parts of Sedum acre are leaves (raw or cooked). Rich in vitamin C, but it has a bitter acrid taste. The main interest in the edible qualities of this plant is as a survival food, since it grows wild in the driest deserts as well as in arctic conditions. Large quantities can cause stomach upsets. It is best to dry the leaves (which can be difficult because they are very fleshy) and then powder them and use them to add a peppery taste to foods. The leaves are dried and ground into a powder to make a spicy seasoning.

Sedum acre ("biting stonecrop") on the other hand contains high quantities of piperidine alkaloids which give it a sharp, peppery and acrid taste and make it somewhat toxic. Depending on the amount consumed, irritations of the mucous membranes, cramps and paralysis, including respiratory paralysis may ensue. In ancient Greece, biting stonecrop was used to treat epilepsy and skin diseases, as well as to cause abortions.

The herb is astringent, hypotensive, laxative, rubefacient, vermifuge and vulnerary. It is considered to be a useful medicinal plant by some herbalists, though others do not use it because of the violence of its operation when taken internally. One of its best uses is as an effective and harmless corn-remover, it can also be used to bring boils to a head, though this can also cause some local irritation. The bruised fresh plant is applied as a poultice to wounds and minor burns, though some care should be exercised because the plant can cause blisters or skin irritations. The herb is difficult to dry and so is best used when fresh, it can be gathered at any time during the spring and summer. A homeopathic remedy is made from the plant. It is used in the treatment of piles and anal irritations.

Source:
http://en.wikipedia.org/wiki/Sedum
http://en.wikipedia.org/wiki/Sedum_acre
http://succulent-plant.com/families/crassulaceae/sedum.html
http://www.pfaf.org/database/plants.php?Sedum+acre