December 2017
Did you know that the famous perfume "Joy" is derived in part from the essential oils of champaca flowers?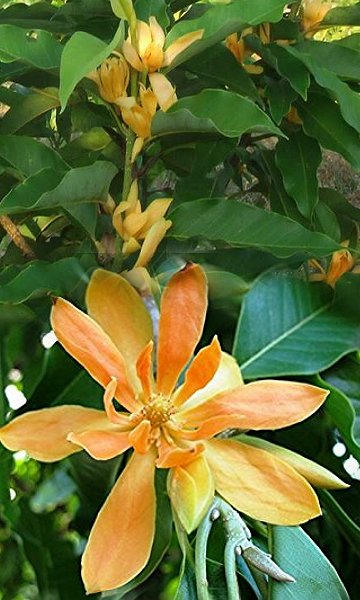 Champak (Magnolia champaca). Flowers.
Champak - Magnolia champaca
Magnolia champaca, known in English as champak, is a large evergreen tree in the Magnoliaceae family. It was previously classified as Michelia champaca. It known for its fragrant flowers, and its timber used in woodworking.
The species epithet, champaca, comes from the Sanskrit word campaka (pronounced tsa mpaka). Other vernacular names in English include Joy perfume tree, yellow jade orchid tree and fragrant Himalayan champaca.

Champaca is a large evergreen tree with a close tapering conical to cylindrical crown composed of ascending branches. It can grow 33 metres or more tall, with some specimens attaining 50 metres. It has a long straight bole that can be 18 - 21 metres long more and, under ordinary forest conditions, 80 - 120cm in diameter. The highlights of this evergreen tree are the mass of sweetly perfumed, creamy yellow flowers produced from summer to autumn, and its smooth grey trunk. Slender, glossy bright green leaves droop from horizontal branches.
The tree is native to the Indomalaya ecozone, consisting of South Asia, Southeast Asia?Indochina, and southern China. It is found in Tropical and subtropical moist broadleaf forests ecoregions, at elevations of 200–1,600 metres (660–5,250 ft). It is native to Bangladesh, China, India, Indonesia, Malaysia, Myanmar, Nepal, Thailand, and Vietnam. In China it is native to southern Xizang and southern and southwestern Yunnan Provinces.
The tree has a wide range of uses, being harvested locally as a source of food, medicines and a range of commodities. It is particularly valued for its essential oil and timber, and is sometimes cultivated for these. The tree is also used in reforestation projects. Champaca is commonly cultivated as an ornamental and wayside tree throughout the tropics, being valued especially for its fragrant flowers, which are often used in religious ceremonies.
In Theravada Buddhism, champaca is said to have used as the tree for achieved enlightenment, or Bodhi by seventeenth Lord Buddha called "Aththadassi". According to Tibetan beliefs, the Buddha of the next era will find enlightenment under the white flower canopy of the champaca tree. In the Philippines, it is locally known as tsampaka, sampaka or sampaga. The fragrant flowers, together with sampaguita, ylang-ylang and camia, are usually strung into garlands and leis used to adorn statues of saints.

The flowers are used in Southeast Asia for several purposes. Especially in India, they are primarily used for worship at temples whether at home or out, and more generally worn in hair by girls and women as a means of beauty ornament as well as a natural perfume. Flowers are used to be floated in bowls of water to scent the room, as a fragrant decoration for bridal beds, and for garlands.

"Magnolia champaca however is more rare and has a strong perfume, and is not that commonly or plentifully used - for example in hair it is worn singly or as a small corsage but rarely as a whole garland, and for bridal beds it is most often jasmine and roses while for bowls of water to be placed around rooms usually other, more colourful for visual decoration and less strongly perfumed flowers are used."
The flowers yield an essential oil known as champa or champaca oil. It is used in perfumery. Another essential oil, known as Michelia leaf oil, is extracted from the leaves. A yellow dye is obtained from the flowers.

The tree was traditionally used to make fragrant hair and massage oils. Jean Patou's famous perfume, 'Joy,' the second best selling perfume in the world after Chanel No. 5, is derived in part from the essential oils of champaca flowers. The vernacular name Joy Perfume Tree comes from this. Many niche perfumers are now once again using Champaca Absolute as single note fragrances.

The scent similar to the scent of this plant is said to emit by a civet in Sri Lanka, Paradoxurus montanus. Because all the other civets are known to emit very unpleasant odours, this species is renowned to emit pleasant odour similar to this plant's scent.
Edible Uses The aromatic, bitter bark is sometimes used for the adulteration of cinnamon. The fruit is said to be edible.

Medicinal use of the p;lant. The bark is used as a febrifuge. A decoction of the bark and leaves is given after childbirth. The flowers are used to treat leprosy. The leaves are used as a treatment against colic. The seeds are used to treat badly chapped skin. Fatty oils extracted from the seeds show antibacterial activity.

In its native India and Southeast Asia, champaca is logged for its valuable timber. It has a finely textured, dark brown and olive-colored wood, which is used in furniture making, construction, and cabinetry. The species is protected from logging in some provinces of India, especially in the Southwestern region, where certain groves are considered sacred by Hindus and Buddhists.

Source:
https://en.wikipedia.org/wiki/Magnolia_champaca
http://tropical.theferns.info/viewtropical.php?id=Magnolia+champaca