October 2009
Did you know that some Grevillea species may cause allergic contact dermatitis to humans?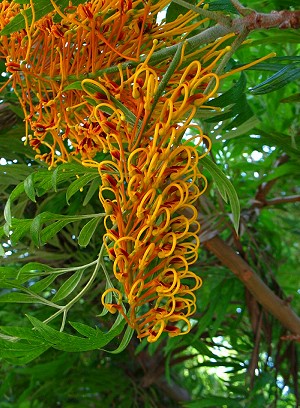 Grevillea - Grevillea robusta
Grevillea - Grevillea spp.
Grevillea is a diverse genus of about 360 species of evergreen flowering plants in the protea family Proteaceae, native to Australia, New Guinea, New Caledonia, and Sulawesi. The species range from prostrate shrubs less than 0.5 m tall to trees 35 m tall. Common names include Grevillea, Spider Flower, Silky-oak and Toothbrush.

Closely related to the genus Hakea, the genus gives its name to the subfamily Grevilleoideae. Many species of grevilleas are popular garden plants, especially in Australia but also in other temperate and subtropical climates. Many grevilleas have a propensity to interbreed freely, and extensive hybridisation and selection of horticulturally desirable attributes has led to the commercial release of many cultivars. Among the best known are Grevillea 'Robyn Gordon', a small shrub up to 1.5 metres high and wide which can flower 12 months of the year in subtropical climates.

The first grevilleas collected were amongst the collections made by Joseph Banks and Daniel Solander who arrived on Captain Cook's ship the 'Endeavour' in Botany Bay on 28th April 1770. The genus was named in honour of Charles Francis Greville. (Charles Francis Greville was a British collector a very close friend of Sir Joseph Banks).
Many grevilleas were used by the aboriginal tribes for food. A cool drink was obtained from the roots of G. nematophylla, which often sustained them in their desert crossings. They also sucked the nectar from the flowers and made a drink by soaking the flower heads in water. A paste was made by mashing the bark of certain grevilleas and this was used to heal earache, spear wounds, skin sores and even rubbed on women's breasts to induce lactation. These pastes were also used for tribal markings. Queensland aborigines utilised the gum of G. striata as 'cement' and used it to attach flints to axes and spears. Aborigines appear to have had a name for most species; these names referred mostly to their practical uses. There are over 350 species of grevillea and the number is always increasing. Grevillea australis is the only grevillea that occurs naturally in Tasmania.
Grevillea robusta, commonly known as the southern silky oak or Silky-oak, or Australian Silver-oak, is the largest species in the genus Grevillea. It is a native of eastern coastal Australia, in riverine, subtropical and dry rainforest environments receiving more than 1,000 mm per year of average rainfall. It is a fast growing evergreen tree, between 18-35 m tall with dark green delicately dented bipinnatifid leaves reminiscent of a fern frond. It is the largest plant in the Grevillea genus, reaching diameters in excess of one metre. These leaves are generally 15-30 cm long with greyish white or rusty undersides. Its flowers are golden-orange bottlebrush-like blooms, between 8-15 cm long, in the spring, on a 2-3 cm long stem and are used for honey production. The seeds mature in late winter to early spring, fruiting on dark brown leathery dehiscent follicles, about 2 cm long, with one or two flat, winged seeds.

The flowers are edible. They are one of the richest sources of nectar. This can be sucked directly from the flowers, shaken into a bowl or washed out in a small quantity of water. The nectar falls in showers when the flowers are shaken. The plant yields small quantities of a gum resin. The leaves contain rutin, though quantities are not specified. Intense yellow and green dyes are obtained from the leaves.
This tree is one of the most important reafforestation trees in Nepal. This species is more resistant than other members of the genus to root-rotting fungus, it is sometimes used as a rootstock for the more susceptible species. Grevillea robusta (Southern Silky Oak) is also grown in plantations in South Africa. It is the best tree which can be used for fencing and it is one of the fastest growing trees.
Wood - strong, silky textured, light, easily split, durable but porous. Before the advent of aluminium, the timber from this tree was widely used for external window joinery as it is resistant to rotting. It was also popular for making furniture in Australia.
There are severe restrictions on the harvesting of this tree now as the number of trees became depleted.

Some Grevillea species may cause allergic contact dermatitis to humans. There are a number of reports in the literature of allergic contact dermatitis as a result of exposure to the sawdust and plant parts of Grevillea robusta.

Source:
http://en.wikipedia.org/wiki/Grevillea
http://www.apstas.com/grevillea1.htm
http://www.pfaf.org/database/plants.php?Grevillea+robusta
http://en.wikipedia.org/wiki/Grevillea_robusta