December 2003
Did you know that, Butcherís broom is so named because the mature branches were bundled and used as brooms by butchers in the Middle Ages?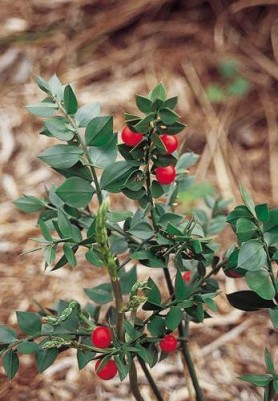 Butcher's-broom (Ruscus aculeatus)
Butcher's broom - Ruscus aculeatus
Butcher's broom, also known as box holly or knee holly, is a fairly common, short evergreen shrub (Ruscus aculeatus L.) of the family Liliaceae, native throughout the Mediterranean region from the Azores to Iran.
It's a perennial shrub from 25 to 100 cm tall, which can be seen in its male or female form as two separated plants. Both of them have smooth , round, dark-green stems. We can hardly see its leaves and what might be taken as leaves are, in fact, the cladodes , some modified stems, ovate -lanceolate, ending with a sharp little spine. Flowers are greenish and little conspicuous. Female flowers are provided with six lobes, being the inner three smaller than the outer ones. Male flowers have joined the three stamens. The most outstanding , appealing part of the plant is the fruit ;a round red berry. When completely grown , it looks like a little ball stuck in the middle of the "false leaf". The fruits are ripe in September, and remain attached to the plant all the winter and cause it often to be picked for room decoration.
In the Middle Ages the young shoots of Butcher's Broom have often been eaten like those of the Asparagus, a plant to which it is closely allied. The matured branches used to be bound into bundles. It is frequently made into besoms in Italy. Especially butchers were supposed to have used such brooms and brushes a lot. Presumably to clean the floors and the chopping blocks, hence the herbís English name; Butcherís Broom.
Butcher's Broom sometimes called Knee Holly, though it is in no way allied to the true Holly, being a member of the Lily tribe. The name Knee Holly appears to have been given it from its rising to about the height of a man's knee (though occasionally specimens are found growing about 3 feet high), and from its having, like the true Holly, prickly leaves, which are also evergreen.
Butcher's-broom, too, has a long history of use in herbal medicine. As early as the first century, Dioscorides recommended butcher's-broom as a laxative and diuretic. The seventeenth-century apothecary-astrologer Nicholas Culpeper suggested that a decoction of the root be drunk and a poultice of the berries and leaves applied to facilitate the knitting of broken bones. However, the drug never became popular in either Europe or the United States and was seldom mentioned in standard references on drugs. Butcher's broom is not used much today, but, in view of its positive effect on varicose veins and hemorrhoids, it could be due for a revival. In the European tradition, both the aerial parts and the rhizome are considered to be diuretic and mildly laxative.
Source:
http://www.herbs2000.com/herbs/herbs_butchers_broom.htm
http://www.savant-hdc.com/ruscus.htm
http://www.botanical.com/botanical/mgmh/b/brobut71.html