October 2014
Did you know that The common name of Alpinia zerumbet, Shell Ginger, derives from the shape and markings of its pinkish flower buds that some say resemble seashells?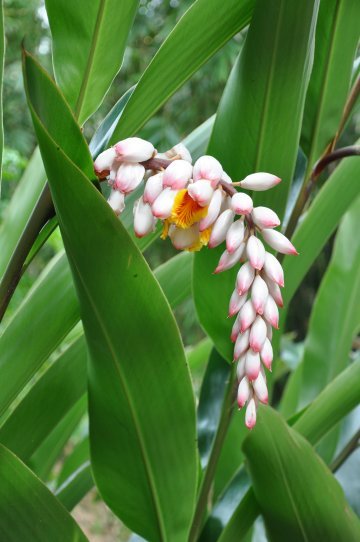 Shell Ginger (Alpinia zerumbet). Leaves and flowers
Shell Ginger - Alpinia zerumbet
Alpinia zerumbet, commonly known as shell ginger, is a perennial species of ginger native to East Asia. They can grow up to 8 to 10 ft (2.4 to 3.0 m) tall and bear colorful funnel-shaped flowers. They are grown as ornamentals and their leaves are used in cuisine and traditional medicine. They are also sometimes known as the pink porcelain lily, variegated ginger or butterfly ginger.
Native to eastern Asia, this plant is a rhizomatous, evergreen tropical perennial that grows in upright clumps 8 to 10 ft (2.4 to 3.0 m) tall in tropical climates. In more typical conditions, it reaches 4 to 8 ft (1.2 to 2.4 m) feet tall in the green house, and 3 to 4 ft (0.91 to 1.22 m) feet tall, as a house plant.
It is commonly called shell ginger or shellflower because its individual shell pink flowers, particularly when in bud, resemble sea shells. It is distinguished from other members of the ginger family by the fact that its flowers droop from the ends of leafy stems rather than rise directly from plant rhizomes. Waxy, light pink flower buds open to tubular flowers with yellow inside lips and red throats. Flowers have white or pink perianths with yellow labella with red spots and stripes. There are three stamens, but only one has pollen. Flowers are fragrant. Flowers appear in drooping racemes in summer. The fruit is globose with many striations. Lance-shaped green leaves to 2' long and 5" wide. Leaves and flowers are attractive in flower arrangements. Rhizomes have a gingery aroma.

One of the most popular varieties is Alpinia zerumbet 'Variegata,' often known as shell ginger. The variegated form, by far the most popular, offers striking green and gold streaking, fanning out from the central rib. The exact pattern varies from leaf to leaf, making for a wonderful mosaic of color.
Synonymous with A. nutans and A. speciosa. Genus name honors Prosper Alpino, 16-17th century Italian botanist. Other common names in English include "pink porcelain lily", "variegated ginger, "butterfly ginger", and "light galangal". In Japanese it is known as getto. In Okinawan, it is known as sannin. In Chinese, it is known as yan shanjiang or yuetao.
Alpinia zerumbet is best grown in rich medium-wet, to wet well drained soils in full sun to part shade. Afternoon shade in hot summer climates, is recommended. Indoors, the plant must have bright light and humid conditions. Flowering rarely occurs before the second year.
In China, the plant's long leaf blades are still used for wrapping zongzi, a sticky rice dish prepared during the Dragon Boat Festival. In Japan, its leaves are sold as herbal tea and also used to flavour noodles and wrap mochi rice cakes.
The leaves and the extracted oils of the plant have long been used in Asia to relieve fevers and malaria, as well as to serve as a general health tonic. It is also used in South and Central America as a diuretic, antihypertensive, and antiulcerogenic. Its tea has hypotensive, diuretic and antiulcerogenic properties. Decoction of leaves has been used during bathing to alleviate fevers. The leaves and rhizomes have been proven effective against HIV-1 integrase and neuraminidase enzymes, and has also shown anti-diabetic effect through inhibitions of formation of advanced glycation end products. Besides, the antioxidant activities of different parts of Alpinia zerumbet has already been reported.

Source:
http://en.wikipedia.org/wiki/Alpinia_zerumbet
http://www.missouribotanicalgarden.org/PlantFinder/
PlantFinderDetails.aspx?kempercode=a483
http://www.sfgate.com/homeandgarden/pickoftheweek/article/
Alpinia-zerumbet-Variegata-or-shell-ginger-3172139.php