November 2007
Did you know that cooked young shoots of Eremurus considered to be a delicacy in Siberia and the flavour is intermediate between purslane and spinach?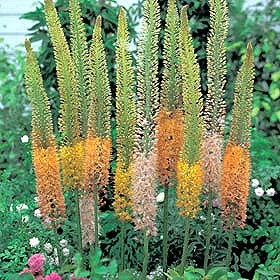 Foxtail Lily - Eremurus spp.
Foxtail Lily - Eremurus Spp.
This genus, Eremurus, consists of 35 to 40 deciduous perennials whose rhizomatous roots resemble the shape of a starfish or an octopus. These hardy perennials are native to western and central Asia. These plants are commonly known as Foxtail Lilies, King's Spears, Desert Candles and Giant Asphodels.
Foxtail Lilies produce tufts of slender, strap-like, bright green leaves. In late spring or early summer, compact spikes consisting of tiny snow white, pastel pink, copper, bright yellow or orange flowers grow 3 to 9 feet above the foliage. These bottlebrush-shaped flower spikes can last up to several weeks when cut.
E. stenophyllus produces 2- to 3-foot spikes of yellow or golden yellow flowers. E. himalaicus from the Himalayas grows 4 to 8 feet high and has white flowers and medium green foliage. E. robustus can grow from 6 to 10 feet high and has deep pink flowers.
Eremurus robustus is a a plant native to the Tien Shan and Pamir Mountains in central Asia that is often used as an ornamental plant. It often goes by the common name Foxtail lily. E. robustus has a stem six to ten feet high, with leaves as long as 48 inches, and 4 inches in width, the widest in its genus. The leaves can vary from a bright green to a bluish-green in color. Inflorescence goes to four feet in length which is covered with many deep to pale pink flowers, four cm across. At the base of the flower is a brown blotch, and have a green keel. The lower flowers have long pedicels, and shorter ones higher up. The flowers, as many as 700 to 800, bloom in June. By the time of flowering, the leaves will usually have already shrivelled.

The plant was introduced to Europe (England) from Central Asia in 1874 and is popular in gardens. However some may find the plant to be too tall for normal gardens. It prefers sandy, well-drained soil and full sun.
The botanical name Eremurus comes from the Greek for "desert tail", referring both to the origins of the flower and its shape. Its common name is 'foxtail lily'.
Some species of Eremurus are edible. From Eremurus spectabilis edible parts are leaves and cooked young shoots. Considered to be a delicacy in Siberia, the flavour is intermediate between purslane and spinach. It is by no means a disagreeable vegetable. From Eremurus robustus the edible part is root.
Cutting stems of Eremurus are ideal for flower arrangements. Condition by cutting off the bottoms of the stems and putting them in warm water. Eremurus will last several weeks if you remove flowers at the bottom as they wither.

Source:
http://en.wikipedia.org/wiki/Rue
http://www.floridata.com/ref/R/ruta_gra.cfm
http://www.pfaf.org/database/plants.php?Ruta+graveolens
s