May 2005
Did you know that Passiflora ( Passion flower) got this name because it's believed that its flower parts represent the Passion of Jesus Christ?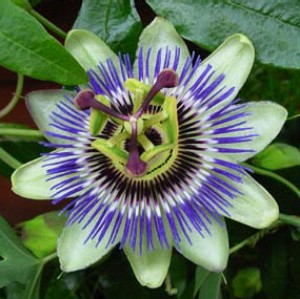 Blue passionflower (Passiflora caerulea) the most common cultivated species.
Passiflora - Passion Flower (Passiflora spp.)
The gender of Passiflora consists of about 600, tender, evergreen and deciduous, climbing plants that are mainly natives of tropical South America.
Passiflora were introduced to Europe from South America in the Eighteenth Century, principally by the Spanish, & can now be found in many parts of the world including Africa, Asia, Australia & North America. Most Passiflora are vines thought to have originated in either the cooler mountains or the much hotter tropical rain forest.

Passion flower got its name from descriptions of its flower parts supplied by priests in the 'New Spain' (South America). These were interpreted in 1609, by Jacomo Bosio in Rome, as representing various elements of the Crucifixion, five petals and five sepals (the ten disciples, minus Judas & Peter); outer fringe (the crown of thorns); five stamens (number of wounds Christ received) & knob-like stigmas of the pistil (the nails). This symbolism is not universal however, in Japan adn in Greece it is known as 'The Clock Plant'.

To survive & reproduce in these very competitive environments many species grow quickly using their tendrils to climb up trees (a very few have adapted becoming trees themselves) to reach the forest canopy & full sun, at which time the trailing stems begin to flower. To attract pollinators, such as bees, moths, butterflies & other insects, bats & hummingbirds to them rather than to other plants, Passiflora have evolved a wide variety (made wider by our man made hybrids) of stunning colourful flowers, often perfumed, with additional sweet nectar glands on leaves, petioles & sometimes bracts. In addition the fruits, which must be eaten to spread the plant over a wide area, contain a juice with a unique aromatic taste & smell.

Classification of Passiflora was first done by Linnnaeus in 1745 when he recognised 22 species. There are now thought to be over 600, but many are under threat in their natural rainforest habitat. Hybrids were first produced in UK in the 1820's - the first one, P. x violacea, although its correct name is disputed, is still with us. Popular with the Victorians in UK, Passiflora became less fashionable in the early Twentieth Century, but now there is worldwide interest in them both as a commercial crop with new varieties being introduced & as an exotic decorative addition to gardens, conservatories & greenhouses. In addition P. incarnata is used by herbalists as a mild sedative & there may be further medicinal uses of other species.
Passionflower (Passiflora incarnata) was used in traditional remedies as a "calming" herb for anxiety, insomnia, seizures, and hysteria. During the early twentieth century, this herb was included in many over-the-counter sedatives and sleep aids. In 1978, the U.S. Food and Drug Administration (FDA) banned these preparations due to a lack of proven effectiveness. In Germany, however, passionflower is available as an over-the-counter sedative (in combination with other calming herbs such as valerian and lemon balm). It is also used in German homeopathic medicine to treat pain, insomnia, and nervous restlessness. Today, professional herbalists use passionflower (often in combination with other calming herbs) to help treat insomnia, tension, and other health problems related to anxiety and nervousness.

Passionflowers, also called granadillas because the fruits look similar to those of pomegranate - " granada " in Spanish - produce eatable fruits, provided that they should be eaten raw to avoid being toxic. All species of this gender are eatable, although there are some that are more appropriate as food than others.

Passiflora incarnata, it produces a fruit that sometimes reaches the size of a melon . It is generally consumed in marmalades in some southern states of USA It was already used by the old Aztecs to treat the bites of the snakes, reason why is was known as " Tongue of snake" and the first Indian natives used it like a food and as disinfectant.
Source:
http://www.passionflow.co.uk/history.htm
http://www.umm.edu/altmed/ConsHerbs/Passionflowerch.html
http://www.botanical-online.com/texascastellaflora.htm