July 2016
Did you know that despite its name, a ripe Java apple only resembles an apple on the outside in color?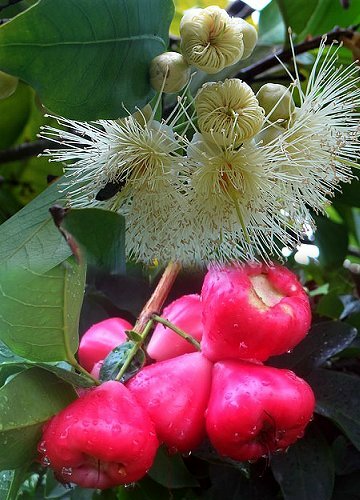 Java Apple (Syzygium samarangense). Flowers and fruits.
Java Apple - Syzygium samarangense
Syzygium samarangense is a plant species in the family Myrtaceae, native to an area that includes the Greater Sunda Islands, Malay Peninsula and the Andaman and Nicobar Islands, but introduced in prehistoric times to a wider area and now widely cultivated in the tropics. Common names in English include Java apple, Semarang rose-apple and wax jambu.

Syzygium samarangense is a tropical tree growing to 15 m tall and has a short trunk with thick and open, widespreading crown and pinkish-gray, flaking bark. Syzygium samarangense has evergreen leaves 10–25 cm long and 5–10 cm broad. The opposite leaves are very aromatic when crushed, nearly sessile, elliptic-oblong, rounded or slightly cordate at the base, yellowish to dark bluish-green in color. Flowers, borne in drooping panicles of 3 to 30 at the branch tips or in smaller clusters in the axils of fallen leaves, are fragrant, yellowish-white with 4 petales and numerous stamens. Flowers fall on the ground in 2-3 days, leaving behind the tiny fruits to mature and ripen in about 2 months.
The fruit is an edible berry, with colors ranging from white, pale green, or green to red, purple, or crimson, to deep purple or even black, 4–6 cm long in wild plants. The waxy fruit is pear-shaped, narrow at the base, very broad, flattened and adorned with 4 fleshy calyx lobes at the apex. The skin is very thin, the flesh is white, spongy, dry to juicy, subacid and very bland in flavor. There may be 1 or 2 somewhat rounded seeds or no seeds at all.

The flowers and resulting fruit are not limited to the axils of the leaves, and can appear on nearly any point on the surface of the trunk and branches. In favorable conditions, a healthy tree can produce abundant fruits and has two fruiting seasons annually, May-September and November to March. When mature, the tree is considered a heavy bearer, yielding a crop of up to 700 fruits.
The tree is indigenous from Malaya to the Andaman and Nicobar Islands where there are wild trees in the coastal forests. It was introduced into the Philippines in prehistoric times and is widely grown throughout those islands. It is common in Thailand, Cambodia, Laos, Vietnam and Taiwan, frequently cultivated in India and in Zanzibar and Pemba, but primarily as an ornamental, seldom for its fruits which are little valued. It was introduced into Jamaica before 1903 and also into Surinam and the islands of Curacao, Aruba and Bonaire. A few trees have been grown in Israel but have borne sparsely

When ripe, the fruit will puff outwards, with a slight concavity in the middle of the underside of the "bell". Healthy wax apples have a light sheen to them. Despite its name, a ripe wax apple only resembles an apple on the outside in color. It does not taste like an apple, and it has neither the fragrance nor the density of an apple. Its flavor is similar to a snow pear, and the liquid-to-flesh ratio of the wax apple is comparable to a watermelon. Unlike either apple or watermelon, the wax apple's flesh has a very loose weave. The very middle holds a seed situated in a sort of cotton-candy-like mesh. This mesh is edible, but flavorless. The color of its juice depends on the cultivar; it may be purple to entirely colorless.

A number of cultivars with larger fruit have been selected. The reddest fruits are the sweetest and superior varieties of excellent quality are available. One of the most highly prized and sought after wax apples in Taiwan are "Black Pearl" or "Black Diamond", which are purplish-red, while the very pale greenish-white ones, called "Pearl", are among the highest priced ones in fruit markets. The fruit is often served uncut, but with the core removed, to preserve the unique bell-shaped presentation. Often seedless, fruits can be eaten out-of-hand. They are remarkably refreshing, juicy and quenching on a hot day. The liquid to flesh ratio of the wax apple is comparable to a watermelon. The texture is crisp, almost crunchy and juicy with a sweet, mildly scented flavor.
The pink fruits are juicier and more flavorful and suitable for eating out-of-hand or cooking without accompaniments except sugar. In Malaya, the greenish fruits are eaten raw with salt or may be cooked as a sauce. They are also stewed with true apples. In Indian-Ocean-Island cuisine, the fruit is frequently used in salads, as well in with light sauteed dishes. The unripe fruits eaten with salt or dipped in a sweetish-spicy sauce. In India, water apples are found in East Godavari district of Andhra Pradesh near the dry land areas of Rajanagaram mandal (mainly around G.Donthamuru village surroundings). In Telugu, these are called kammari kayalu. It is also found throughout Kerala where it is called as Champakka or Chambakka. It is mainly eaten as a fruit and also used to make pickles (Chambakka Achar).
Various parts of the tree are used in traditional medicine, and some have in fact been shown to possess antibiotic activity.The flowers are astringent and used in Taiwan to treat fever and halt diarrhea. Investigators have found their principal constituent to be tannin. They also contain desmethoxymatteucinol, 5-O-methyl-4'-desmethoxymatteucinol, oleanic acid and B-sitosterol. They show weak antibiotic action against Staphylococcus aureus, Mycobacterium smegmatis, and Candida albicans.
The tree is fast-growing and develops a dense, very dark green crown, making it an excellent windbreak. The wood is reddish, coarse and hard. It can grow to dimensions large enough for construction purposes. Éô is used for constructing huts in the Andaman and Nicobar Islands.

Source:
https://en.wikipedia.org/wiki/Syzygium_samarangense
http://ntbg.org/plants/plant_details.php?plantid=10919
https://hort.purdue.edu/newcrop/morton/java_apple.html
http://toptropicals.com/catalog/uid/Syzygium_samarangense.htm
http://tropical.theferns.info/viewtropical.php?id=Syzygium+samarangense