September 2018
Did you know that Dacryodes edulis It has long been used not only as food but and in traditional medicine of some African countries?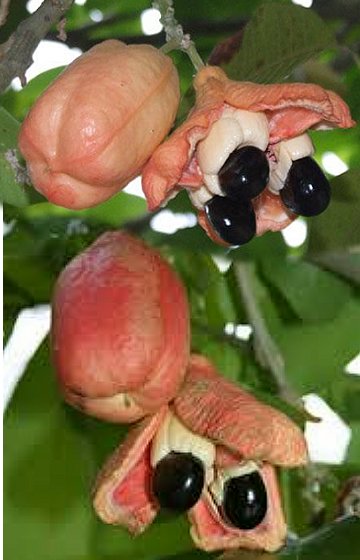 Ackee (Blighia sapida).
Ackee - Blighia sapida
The ackee, also known as achee, ackee apple or ayee (Blighia sapida) is a fruit, which is the member of the Sapindaceae (soapberry family), as are the lychee and the longan. It is native to tropical West Africa in Cameroon, Gabon, Sao Tome and Principe, Benin, Burkina Faso, Ivory Coast, Gambia, Ghana, Guinea, Guinea-Bissau, Mali, Nigeria, Senegal, Sierra Leone and Togo.[1] In Yoruba it is known as isin.

The scientific name honours Captain William Bligh who took the fruit from Jamaica to the Royal Botanic Gardens in Kew, England in 1793 and introduced it to science. The English common name is derived from the West African Akan akye fufo.

The fruit was imported to Jamaica from West Africa before 1778. Since then it has become a major feature of various Caribbean cuisines, and is also cultivated in tropical and subtropical areas elsewhere around the world.

Under favourable conditions, the tree may reach heights of up to 25 m (80 ft), though is more commonly 10 to 15 m (30 to 50 ft) tall with a straight, stout trunk supporting a densely leafy rounded crown. The bark is pale grey and smooth.

The leaves are large and compound, being made up of glossy green oval leaflets, each 12 to 20 cm (6 to 8 in) long and arranged in pairs along the length. A typical leaf is made up of three to five pairs of leaflets and their dense arrangement casts a deep shade. They remain on the tree in all seasons.
The flowers are small and insignificant, cream-coloured, either bi-sexual or male and are held in branched clusters arising at the ends of the branches, though are partly obscured by the leaves. The inflorescences are fragrant, up to 20 cm long. Each flower has five greenish-white petals. They come into bloom at the start of the rainy season in seasonally dry areas but bloom on and off throughout the year in areas where the dry season is short or where humid conditions prevail.

The flowers are followed by light green, bell-shaped fruit that become bright red when mature. The fruit has a thick fibrous shell that splits at the base when fully mature, separating into three segments, each shielding a soft, pale yellow or creamy-white aril with a glossy black seed attached. The fruit typically weighs 100–200 grams (3.5–7.1 oz).
There are two named varieties in cultivation, 'Butter' with a soft, bright yellow aril and 'Cheese' with a somewhat firmer, cream-coloured aril. All parts of the fruit are poisonous, yet the arils are eaten in some countries, particularly in Jamaica where it has been adopted as the national fruit.
Although native to West Africa, the use of ackee in food is especially prominent in Jamaican cuisine. Ackee is the national fruit of Jamaica, and ackee and saltfish is the national dish. A local company even makes ackee wine.
Ackee was introduced to Jamaica and later to Haiti, Cuba, Barbados and others. It was later introduced to Florida in the United States.
Ackee pods should be allowed to ripen on the tree before picking. Prior to cooking, the ackee arils are cleaned and washed. The arils are then boiled for approximately 5 minutes and the water discarded.
After removing and discarding the seed, the arils are carefully cleaned, leaving only the soft yellow or cream-coloured flesh which is then simmered, usually in lightly salted water. At the end of the simmering process, the water is drained off and discarded as a precaution. The drained and softened arils are then sauteed, usually with black pepper, herbs and spices. In Jamaica, flakes of salt-preserved cod fish are added to make that country's most esteemed dish, 'Ackee and Saltfish.' When cooked they have a soft, buttery avocado-like texture and an agreeable, slightly nutty flavour.
The cooked arils contain high levels of Vitamins A, B1 (Thiamine), B2 (Riboflavin), B3 (Niacin) and C (Ascorbic acid), as well as high levels of Oleic acid, an Omega-9 fatty acid that helps to maintain healthy blood cholesterol levels.

The dried seeds, fruit, bark, and leaves are used medicinally.

The unripened or inedible portions of the fruit contain the toxin hypoglycin A and hypoglycin B. Hypoglycin A is found in both the seeds and the arils, while hypoglycin B is found only in the seeds. These two molecules are converted in the body to methylene cyclopropyl acetic acid (MCPA). Hypoglycin A and MCPA are both toxic. MCPA and hypoglycin A inhibit several enzymes involved in the breakdown of acyl CoA compounds, often binding irreversibly to coenzyme A, carnitine and carnitine acyltransferases I and II, reducing their bioavailability and consequently inhibiting beta oxidation of fatty acids. Beta oxidation normally provides the body with ATP, NADH, and acetyl CoA which is used to supplement the energy produced by glycolysis. Glucose stores are consequently depleted leading to hypoglycemia. Clinically, this condition is called Jamaican vomiting sickness. These effects occur only when the unripe fruit is consumed.
Logs, when available are sawn into planks mostly for making furniture or into beams for railway sleepers. However, the trees are not usually felled in areas where the fruit is eaten and has economic importance. The branchwood is cut for firewood and for making charcoal.

Ackee trees produce a medium-weight wood, in the 600 to 650 kg per cubic meter (37 to 41 lbs per cubic ft) range, with reportedly good natural resistance to rot, decay and wood-boring insects, though this is not well researched. The heartwood is pale gold- to orange-brown.

Honeybees can be observed vigorously working the flowers, but the tree's importance to honey production is unknown.

Source:
https://en.wikipedia.org/wiki/Ackee
https://www.iplantz.com/plant/221/blighia-sapida/