February 2010
Did you know that Chinese lanterns that hanging by Physalis plant incude small edible orange fruit like tomatos?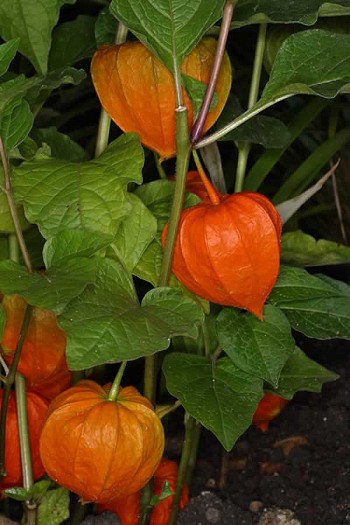 Physalis alkekengi (Chinese lantern)
Physalis - Physalis spp.
Physalis is a genus of flowering plants in the nightshade family (Solanaceae), native to warm temperate and subtropical regions throughout the world. This genus has both ornamental and edible uses, depending on the species, and it is widely cultivated all over the world. The genus is characterised by the small orange fruit similar in size, shape and structure to a small tomato, but partly or fully enclosed in a large papery husk derived from the calyx. Many Physalis species are called groundcherries. One name for Physalis peruviana is Cape gooseberry, not to be confused with the vast majority of gooseberries, which are of the genus Ribes.

They are herbaceous plants growing to 0.4–3 m tall, similar to the common tomato - a relative - but usually with a stiffer, more upright stem; they can be either annual or perennial. Most require full sun and fairly warm to hot temperatures. Some species are sensitive to frost, though others such as P. alkekengi (Chinese lantern) tolerate severe cold when dormant in winter.
Physalis typically develops slightly hairy leaves, thick stems, and delicate yellow to orange flowers. When fruit develops, it grows inside a husk, and the color may vary: red, orange, and yellow are all common shades for Physalis fruits, along with more exotic shades like purple.
The fruits of some species are edible, with an acidic kick like that of tomatoes. Some have notes of tropical fruit like pineapples, while others have a more earthy flavor. Physalis fruits can be eaten out of hand raw, sliced and thrown into salads, used in salsas and sauces, cooked in stir fries, dried, and cooked in preserves and jellies. Some varieties are more savory in nature, while others are very sweet. Tomatillos in particular are very popular in Latin America, and they are rich in vitamin C, making them a great addition to the diet.

In Chinese medicine, the Physalis is used as a remedy for abscesses, coughs, fevers and sore throats, among others. Smooth groundcherry (P. subglabrata) is considered a hallucinogenic plant by some, and its cultivation for other than ornamental purposes is outlawed in Louisiana by State Act 159. However, its use as a hallucinogen does not appear widespread.

Physalis peruviana, commonly known as physalis, is indigenous to South America, but was cultivated in South Africa in the region of the Cape of Good Hope during the 1800s, imparting its common name, cape gooseberry.

The fruit is a small round berry about the size of a marble with numerous small yellow seeds. It is bright yellow and sweet when ripe, making it ideal for snacks, pies or jams. It is popular in fruit salads, sometimes combined with avocado.

Its most notable feature is the single papery pod that covers each berry. Because of the fruit's decorative appearance, it is sometimes used in restaurants as an exotic garnish for desserts. If the fruit is left inside the husks, its shelf life at room temperature is over 30–45 days.

Physalis alkekengi (Bladder cherry, Chinese lantern, Japanese lantern, or Winter cherry; Japanese: hozuki), is a relative of P. peruviana (Cape Gooseberry), easily identifiable by the larger, bright orange to red papery covering over its fruit, which resemble Chinese lanterns. It is native from southern Europe east across southern Asia to Japan. It is a herbaceous perennial plant growing to 40–60 cm tall, with spirally arranged leaves 6–12 cm long and 4–9 cm broad. The flowers are white, with a five-lobed corolla 10–15 mm across, with an inflated basal calyx which matures into the papery orange fruit covering, 4–5 cm long and broad.

It is a popular ornamental plant, though can be invasive with its wide-spreading root system sending up new shoots some distance from where it was originally planted. It has escaped cultivation various places around the world. It has food and medicinal uses, but because its side effects include miscarriage and abdominal pain, it must be used in moderation.[citation needed] Like a number of other species in the genus Physalis, it contains a wide variety of physalins.
The extinct Dacian language has left little traces, but in De Materia Medica by Pedanius Dioscorides, a plant called Strychnos alikakabos (Στρύχνος άλικακάβος) is discussed, which was called kykolis (or cycolis) by the Dacians. Some have considered this plant to be Physalis alkekengi, but Ashwagandha (Withania somnifera) has been proposed as an alternative candidate and indeed this widely-traded medical plant seems to be a better match.
Physalis ixocarpa (Tomatillo) This perennial is native to Mexico and was used by the Aztecs. Unlike other Physalis fruits (the Cape gooseberry and the ground cherry), the tomatillo completely fills the Chinese-lantern-looking husk that is characteristic of physalis--in this case filled with "little green tomatoes" (1-2" diameter) with a tart flavor that develops once you cook them. It's a key ingredient of Mexican salsa verde.

Source:
http://en.wikipedia.org/wiki/Physalis
http://www.wisegeek.com/what-is-physalis.htm
http://en.wikipedia.org/wiki/Physalis_peruviana
http://en.wikipedia.org/wiki/Physalis_alkekengi
http://www.soupsong.com/ftomatil.html