September 2006
Did You Know that Pampas grass seeds prolifically, with each plant able to produce over 1 million seeds during its life time?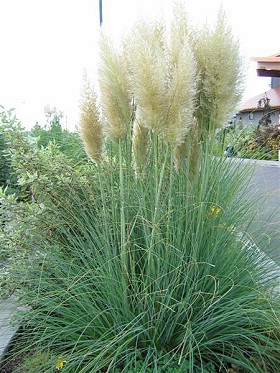 Pampas grass (Gynerium argenteum - Cortaderia Selloanna)
Pampas grass (Gynerium argenteum - Cortaderia Selloanna)
Cortaderias are beautiful ornamental Grasses native to South America. C. Selloana - Gynerium argenteum (Pampas grass) grows up to 7 feet high with a spread of 4 feet. This Grass forms clumps of thin, very sharp-edged, arching leaves that are pale olive green. The tiny, silvery cream flowers are produced in dense, silky plumes in late summer. These perennials aren't hardy in the North, but may be grown outdoors in the South. The plumes of flowers may be cut when they're fully developed and used for decorating purposes.

This plant is in leaf all year, in flower from August to October, and the seeds ripen from October to November. The flowers are dioecious (individual flowers are either male or female, but only one sex is to be found on any one plant so both male and female plants must be grown if seed is required) and are pollinated by Wind. The plant not is self-fertile. The plant prefers light (sandy), medium (loamy) and heavy (clay) soils and requires well-drained soil. The plant prefers acid, neutral and basic (alkaline) soils. It cannot grow in the shade. It requires dry or moist soil. The plant can tolerates strong winds but not maritime exposure.

Pampas grass is native to the South American countries of Chile, Brazil and Argentina. This grass acquired its common name from that of Argentina's grasslands which are called the pampas. This grand green goliath is grown around the world and just might be the most popular of all ornamental grass species.
It was named by Alexander von Humboldt in 1818, after the German botanist and naturalist Friedrich Sellow, who studied the flora of South America, specially that of Brazil.
It was originally introduced to Europe and North America as an ornamental grass, and to a lesser extent to provide food for grazing animals.
Pampas grass is highly adaptable and can grow in a wide range of environments and climates. It also seeds prolifically, with each plant able to produce over 1 million seeds during its life time. As such, in some areas (for example California and Hawaii) it is regarded as an invasive weed, whilst in New Zealand the plant is banned from sale and propagation.
The feathery flower head plumes, when dried, are widely used in flower arrangements and other ornamental displays.
Dried plumes, dyed flamboyant colors and often sprinkled with glitter, can be purchased at better discount and souvenir stores throughout the country - especially in areas frequented by tourists. Always in good taste, these can be used fearlessly in even the most sophisticated interior designs. So versatile are these prodigious plumes that no matter what color you select rest assured they will combine effectively with pink flamingos, Elvis-on-black-velvet art and lava lamps.
The plumes of pampas grass are highly prized for indoor decorations. Plumes used for this purpose should be cut as soon as they have fully emerged. They can be used in dried arrangements immediately after harvesting or dried by hanging upside down and used later. If mature plumes are brought indoors, they will fill the home with delicate fluffy flowers which can be a bigger problem than a shedding dog or cat. This shedding can be prevented by spraying mature plumes with hair spray.
A fibre obtained from the leaves is used for making paper. The leaves are harvested in the autumn, they are cut into usable pieces and soaked for 24 hours in clear water. They are then cooked for 2 hours with lye and then beaten in a blender. The fibre makes a yellow paper.
Due to the sharp leaf edges do not use pampas grass near walkways, swimming pools, benches, play areas, etc. Even light brushes with the leaves can result in cuts that have a tendency to become inflamed - wash immediately and apply antibiotic salve.
Source:
http://www.botany.com/cortaderia.html
http://www.pfaf.org/database/plants.php?Cortaderia+selloana
http://www.floridata.com///ref/C/cort_sel.cfm
http://en.wikipedia.org/wiki/Cortaderia_selloana
http://hort.ufl.edu/gt/pampas/pampas.htm