November 2009
Did you know that Clematis used as a pepper substitute to spice up food by early travelers and pioneers of the American Old West?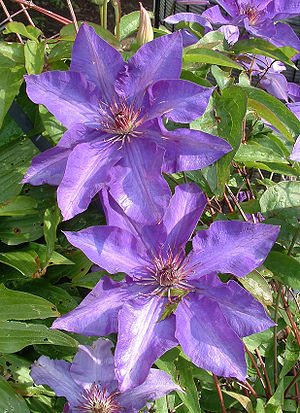 Clematis - Clematis x jackmanii
Clematis - Clematis spp.
Clematis is a genus of climbing vines with showy flowers. Clematis are of the Ranunculaceae botanical family. The majority of clematis are climbers. Two notable exceptions are the species C. heracleifolia and C. integrifolia which are herbaceous, and fit well in a perennial garden border. There are several hundred species of clematis world wide. The vast majority of these are very hardy, however, some species particularly the evergreens, can only take a few degrees of frost.
They are popular among gardeners, and over 200 species are known with more cultivars being produced constantly. Most species are known as clematis in English, while some are also known as traveller's joy, old man's beard, leather flower, vase vine and virgin's bower, the last three being names used for North American species.
The genus name 'clematis' is derived from the Greek word klema, meaning vine branch or vine-like. It is possible that even before the use of the word 'Klema-tis' the whole genus was known as atragene, meaning 'firecracker' in Greek. Apparently, when large dry stems of C. vitalba are placed in a fire, the heat causes them to split, making a noise like firecrackers. Although the Atragene group now embraces C. alpina, C. macropetala and similar North American species, atragene was at one time used as a name for C. vitalba. There are over two hundred species and cultivars, often named for their originators or particular characteristics.

The genus is composed of mostly vigorous, woody, climbing vines technically called lianas. The woody stems are quite fragile until several years old. Leaves are usually divided into leaflets, with leafstalks that twist and curl around supporting structures to anchor the plant as it climbs. Some species are shrubby, and some others are herbaceous perennial plants. The cool temperate species are deciduous, but many of the warmer climate species are evergreen. They grow best when their roots are shaded but their tops are in full sun. They are generally acid-intolerant calciphytes that grow on limestone and other basic soils.
Though they are famous as flowering plants, the clustered true flowers are in fact tiny; the showy parts are actually sepals that resemble colorful flower petals. The blossoms and sepals eventually fall away leaving fluffy clusters of seeds with tails. The timing and location of flowers varies; spring-blooming clematis flower on the previous year's stems, summer/fall blooming clematis bloom only on the ends of new stems, and twice-flowering clematis do both at the respective times.

Clematis species are found throughout the temperate regions of both hemispheres, and also in mountains in the tropics. Clematis leaves are food for the caterpillars of some Lepidoptera species.
There was little interest in clematis until the 1850s when many were crossed and improved. Plants from Japan and China became the parents of many hybrids. Much breeding occurred in Britain, France, Belgium and Germany until about the 1890s; in fact, more new varieties were introduced during this period than any other in history and many clematis grown today originated then. The leading hybridizer in Britain in the 1860s was the Jackman Nursery, which produced C. x jackmanii (introduced in 1862), still the most popular clematis grown today. In the 1880s, interest in clematis died down. Hybridizers were running out of ideas and the wilt "epidemic" put a damper on cultivation. Today, there is renewed interest in clematis, particularly in very hardy and disease-resistant small-flowered types.
Clematis was called pepper vine by early travelers and pioneers of the American Old West and used as a pepper substitute to spice up food since true black pepper (Piper nigrum) was a costly and rarely obtainable spice. The entire genus contains essential oils and compounds which are extremely irritating to the skin and mucous membranes. Unlike black pepper or Capsicum, however, the compounds in clematis cause internal bleeding of the digestive tract if ingested in large amounts. The plants are essentially toxic. Despite its toxicity, Native Americans used very small amounts of clematis as an effective treatment for migraine headaches and nervous disorders. It was also used as an effective treatment of skin infections.

Source:
http://en.wikipedia.org/wiki/Clematis
http://ohioline.osu.edu/hyg-fact/1000/1247.html
http://www.herbs2000.com/flowers/c_history.htm
http://www.homeofclematis.net/html/in_01.htm