September 2005
Did you know that the bulbs of the Muscari plant are often used in Southern Italian cuisine althought this plant is poisonous?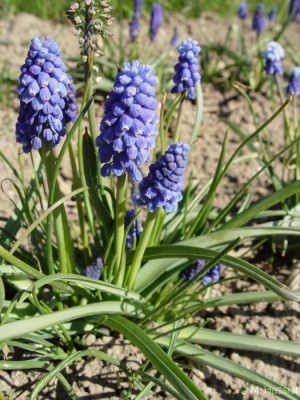 Muscari - Muscari botryoides
Muscari - Grape Hyacinth (Muscari spp.)
Muscari is a genus of 50 species of bulbs, commonly called grape hyacinths, occurring from sea level to sub-alpine areas in the Mediterranean region and South West Asia. The fleshy leaves are arranged in basal clusters with flowers borne in dense spikes on leafless stems in spring.

The name of the genus, Muscari, comes from the Greek word for "moschos" meaning 'musk' and refers to the sweet aromatic scent of the flowers which, together with their often deep blue colouring, has made them popular in cultivation. The common name is grape hyacinth, from the way their flowerhead resembles that of a hyacinth.

Muscari look their best grown in large massed plantings such as those which can be seen on the Rock Garden, Battleston Hill and in the Wild Garden, where they thrive in full sun and the moist, well-drained soil that they require.
Grape Hyacinths have been gardened for centuries. They are native to Greece and the Middle East, but have been grown in the UK since 1576 and were very familiar to the Elizabethans, but were likely gardened even in the Greek & Roman ages. An Anglo-Saxon translation of Dioscorides preserves an otherwise forgotten myth of their origin, the first grape hyacinths having sprung from spilled dragon's blood on a forested mountain peak.
The Grape Hyacinth, has, like the Wild Hyacinth, a poisonous bulb. The small, dark blue flowers, looking almost like little berries and having a sweet scent. A few of the uppermost are of a pale blue, erect, much narrower and without stamens or pistils. As the flowers of the various species of Muscari secrete much nectar, they are reckoned among the useful bee plants of the spring. The Grape Hyacinth has sometimes been called Starch Hyacinth, as the flowers have been supposed to smell of wet starch.
Muscari has been used in medicine for its diuretic and stimulant properties, but British experts do not advise or recommend that any part of Grape Hyacinth is eaten.
However Italians have deferent opinion. Lampagioni, a species of Muscari, also called lampascioni or cipollacci, are often used in Southern Italian cuisine, especially in the Puglia region. They are a kind of bulb, similar to an onion, with a rather strong, bitter taste. After cooking they become reddish. Prior to cooking, the outer leaves must be removed and the bulbs should soak in cool water (which should be changed occasionally) so that some of their bitterness is lost. Otherwise they can be half cooked, drained, and cooked in fresh water until they are done. They are used in salads, fried, and marinated in oil or vinegar.
Source:
http://www.rhs.org.uk/ WhatsOn/gardens/wisley/archive/wisleypcimarch.asp
http://www.paghat.com/muscaribotryoides.html
http://www.botanical.com/botanical/mgmh/h/hyagra42.html
http://home.tiscali.nl/~hennessy/teeltweb/use/nieuwe_pagina_2.htm