February 2019
Did you know that In the 1st century, fresh lychees were in such demand at the Imperial Court of China that a special courier service with fast horses would bring the fresh fruit from Guangdong?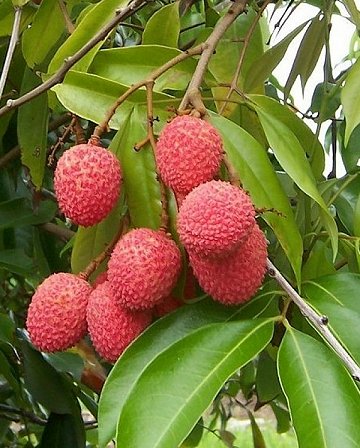 Lychee ( Litchi chinensisi).
Lychee - Litchi chinensis
Lychee; Litchi chinensis; is the sole member of the genus Litchi in the soapberry family, Sapindaceae. It is a tropical tree native to the Guangdong and Fujian provinces of China, where cultivation is documented from 1059 AD. China is the main producer of lychees, followed by India, other countries in Southeast Asia, the Indian Subcontinent and South Africa. A tall evergreen tree, the lychee bears small fleshy fruits. The outside of the fruit is pink-red, roughly textured and inedible, covering sweet flesh eaten in many different dessert dishes.

Lychee seeds contain methylenecyclopropylglycine which can cause hypoglycemia associated with outbreaks of encephalopathy in undernourished Indian and Vietnamese children who had consumed lychee fruit.

Litchi chinensis is the sole member of the genus Litchi in the soapberry family, Sapindaceae. It was described and named by French naturalist Pierre Sonnerat in his account "Voyage aux Indes orientales et a la Chine, fait depuis 1774 jusqu'a 1781" (translation: "Voyage to the East Indies and China, made between 1774 and 1781"), which was published in 1782.[citation needed] There are three subspecies, determined by flower arrangement, twig thickness, fruit, and number of stamens.

Litchi chinensis is an evergreen tree that is frequently less than 15 m (49 ft) tall, sometimes reaching 28 m (92 ft). The bark is grey-black, the branches a brownish-red. Leaves are 10 to 25 cm (3.9 to 9.8 in) or longer, with leaflets in 2-4 pairs.[9] Lychee have a similar foliage to the Lauraceae family likely due to convergent evolution. They are adapted by developing leaves that repel water, and are called laurophyll or lauroid leaves. Flowers grow on a terminal inflorescence with many panicles on the current season's growth. The panicles grow in clusters of ten or more, reaching 10 to 40 cm (3.9 to 15.7 in) or longer, holding hundreds of small white, yellow, or green flowers that are distinctively fragrant.

The lychee bears fleshy fruits that mature in 80–112 days depending on climate, location, and cultivar. Fruits vary in shape from round to ovoid to heart-shaped, up to 5 cm long and 4 cm wide (2.0 in ? 1.6 in), weighing approximately 20 g. The thin, tough skin is green when immature, ripening to red or pink-red, and is smooth or covered with small sharp protuberances roughly textured. The rind is inedible but easily removed to expose a layer of translucent white fleshy aril with a floral smell and a fragrant, sweet flavor. The skin turns brown and dry when left out after harvesting. The fleshy, edible portion of the fruit is an aril, surrounding one dark brown inedible seed that is 1 to 3.3 cm long and 0.6 to 1.2 cm wide (0.39–1.30 by 0.24–0.47 in). Some cultivars produce a high percentage of fruits with shriveled aborted seeds known as 'chicken tongues'. These fruit typically have a higher price, due to having more edible flesh. Since the perfume-like flavour is lost in the process of canning, the fruit is usually eaten fresh.

Fruits are edible raw or cooked. The white, translucent fleshy arils are sweet, juicy and subacid, with a delicious flavour that is somewhat reminiscent of Muscat grapes. Much eaten raw, they can also be dried, spiced, pickled, canned in syrup, used in jams, sauces, ice creams, fruit salads etc.

The dried fruits, called lychee nuts, have a distinctive smoky flavour and are widely eaten in China. Rich in vitamin C. The smooth fruits of lowland-grown 'water lychee' are commonly preferred to the rather prickly fruits of 'mountain lychee' grown in the hills.

Cultivation of lychee began in the region of southern China, going back to 1059 AD, Malaysia, and northern Vietnam. Unofficial records in China refer to lychee as far back as 2000 BC. Wild trees still grow in parts of southern China and on Hainan Island. There are many stories of the fruit's use as a delicacy in the Chinese Imperial Court. It was first described and introduced to the West in 1656 by Michal Boym, a Polish Jesuit missionary (at that time Polish–Lithuanian Commonwealth).

In the 1st century, fresh lychees were in such demand at the Imperial Court that a special courier service with fast horses would bring the fresh fruit from Guangdong. There was great demand for lychee in the Song Dynasty (960-1279), according to Cai Xiang, in his Li chi pu (Treatise on Lychees). It was also the favourite fruit of Emperor Li Longji (Xuanzong)'s favoured concubine Yang Yuhuan (Yang Guifei). The emperor had the fruit delivered at great expense to the capital.

The lychee attracted attention of European travellers, such as Juan Gonzalez de Mendoza in his History of the great and mighty kingdom of China (1585; English translation 1588), based on the reports of Spanish friars who had visited China in the 1570s gave the fruit high praise: They have a kinde of plummes, that they doo call lechias, that are of an exceeding gallant tast, and neuer hurteth any body, although they shoulde eate a great number of them.

Raw lychee fruit is 82% water, 17% carbohydrates, 1% protein, and contains negligible fat. The raw pulp is rich in vitamin C, having 72 mg per 100 grams – an amount representing 86% of the Daily Value – but contains no other micronutrients in significant content.

Lychees have moderate amounts of polyphenols, including flavan-3-ol monomers and dimers as major compounds representing about 87% of total polyphenols, which declined in content during storage or browning. Cyanidin-3-glucoside represented 92% of total anthocyanins.

The fruit, its peel and the seed are used in traditional medicine; decoctions of the root, bark and flowers are used as a gargle to alleviate throat ailments. The fruit peel is used in the treatment of diarrhoea. Seeds are used as an anodyne in neuralgic disorders and orchitis.

Source:
https://en.wikipedia.org/wiki/Lychee
http://tropical.theferns.info/viewtropical.php?id=Litchi+chinensis