February 2006
Did you know that the leaves of Mimosa Pudica close up under various stimuli, such as touching, warming, or shaking and because of this reaction got its name Sensitive Plant?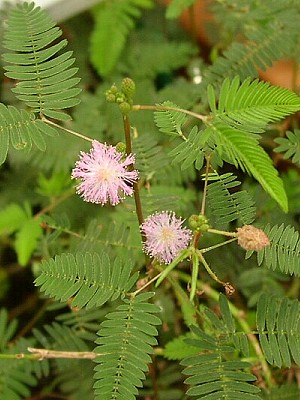 Mimosa pudica - Sensitive Plant
Mimosa pudica - Sensitive Plant
Mimosa pudica is a shrubby plant from Brazil, India and Equador that belongs to the Pea family, Leguminosae. There are numerous kinds, but only a few are in cultivation. This plant has prickly stems and finely divided leaves. Its flowers are produced in little fluffy balls that are usually pink or purple. These plants are known as the Sensitive Plant because its leaflets fold up when they're touched or blown by the wind. They close up in pairs beginning at the top until they reach the base of the leafstalk, when the whole leaf drops as if it's on a hinge.
Mimosa pudica or Sensitive Plant, is a fun plant to grow. The leaves fold up when touched. If touched with a bit more force, the petioles will also bend at their pulvinis and the leaves droop. These movements are called seismonastic movements (reaction to physical shock). At night, the leaves will also fold and bend in movements known as nyctonastic movements (reaction to absence of light).
In pharmacology there hasn't been any information on this species so far, but many other Mimosa species, such as Mimosa tenuiflora and Mimosa scabrella are known to contain tryptamines in the roots. Recent reports on the internet suggest that this may be the case with this species too. All seed is sold for botanical preservation purposes only. All parts of this plant can be toxic and should not be ingested.
GarIfuna blacks of Caribbean Guatemala use a decoction of Mimosa pudica, which they call espina dormilona, as a remedy for urinary infections. Under the name duermidiio, Mimosa pudica has been reported in use among Mayans of Belize as a soporific and juice of the roots of this plant was used as a soporific by the Aztecs, who called it pinabuihuitztli. Use of M pudica as a hypnotic tranquilizer has been reported in traditional Vietnamese phytomedicine and the plant is used as a pediatric anticonvulsant in Madagascar.


In India it is used as a treatment for epilepsy and as an aphrodisiac. In Amazonia, the Quichua Indians use M pudica to stuff pillows for insomniacs. In Panama, Mimosa pudica has reported medicinal uses, "an infusion of ground stem is drunk for arthritis" by the GuaymI Indians, who call the plant muigin or guaring. The Spanish name for the plant is dormidera ("soporific"), and it is sometimes known as sleeping grass in English.

Source:
http://www.botanyworld.com/mimosa.html
http://www.plantoftheweek.org/week147.shtml
http://www.bio.miami.edu/mimosa/mimosa.html
http://www.ethnogarden.com/cart/index.pl/catid_77/proid_151