Day Lily Chicken Soup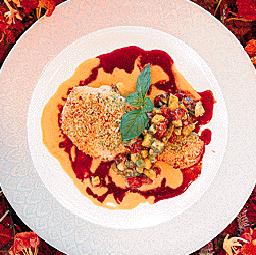 5 cups chicken stock
1/2 cup cooked, minced chicken
1 1/2 Tbsp cubed salt pork
3/4 cup diced potatoes
2 Tbsp minced onion
3 Tbsp minced celery
1/4 tsp each ginger, salt, & pepper
2 Tbsp flour
2 Tbsp sherry
3 Tsp minced mushrooms
1 Tbsp minced parsley
1 Tbsp soy sauce
1 1/2 cup chopped day lilies

Combine chicken stock, chicken, salt pork, potatoes, onion, celery, ginger, salt, and pepper. Cook 15-30 min. or until potatoes are tender. Add flour to sherry and add to soup. Add remaining ingredients and simmer 3-4 min.

* This recipe contributed by Mommy Lady


Violet Pineapple Soup
(serves 6)

4 cups pineapple juice
3 Tbsp quick-cooking tapioca
3 tsp sugar
1/2 tsp grated lemon peel
2 cups sliced strawberries or raspberries
1 cup diced orange sections or drained can mandarin
2 Tbsp orange liqueur
1/2 cup fresh violets

Combine pineapple juice and tapioca, bring to a boil. Remove from heat adding sugar and lemon peel. Cool to room temp. Add fruit, liqueur, and violets. Chill, before serving, add dollop sour cream to each bowl and garnish with a violet.


Nasturtium Soup
(serves 4 - 6)

1 quart chicken stock
8 nasturtium flowers, chopped
8 nasturtium leaves, chopped
1/2 cup chopped celery
1 1/2 Tbsp chopped onion
1 sprig of parsley
Salt and pepper to taste

Combine all ingredients and bring to a boil, stirring constantly. Turn down heat and simmer 6-8 minutes. Strain and serve immediately.