Water chestnuts wrapped in bacon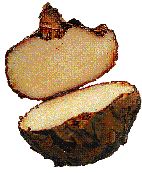 Ingredients:
2 small cans of water chestnuts
1 lb bacon

Sauce:
1 cup ketchup
2/3 cup sugar
2 tsp soy sauce
Directions:
Cut bacon strips in half and wrap around the water chestnuts, securing the bacon with a toothpick. Bake in a 350 F oven for 30 minutes. Drain fat.

Dip each one in the sauce, then bake another 20 minutes.
Bacon Wrapped Water Chestnuts 2
Ingredients:
1 cup brown sugar
2 tablespoons Worcestershire sauce
2 cups ketchup
1 pound bacon
2 (8 ounce) cans whole water chestnuts, drained
Directions:
Preheat oven to 375 degrees F (190 degrees C).
In a medium-size mixing bowl, combine brown sugar, Worcestershire sauce, and ketchup.
Cut bacon in half. Wrap one slice of bacon around each chestnut. Secure the bacon with a toothpick. Arrange the water chestnut wraps in a 9x13 inch baking dish.
Bake the water chestnut wraps for 10 to 15 minutes.
Remove from water chestnut wraps from the oven and drain some of the grease out of the pan. Pour the sauce over the wraps.
Bake for 30 to 35 more minutes. Makes 8 to 10 servings
Chicken with water chestnuts
Succulent chicken with a the excellent crunchy texture of just cooked water chestnuts is a great combination and best of all, it can be prepared in 10-12 minutes.
2 chicken breasts
One tablespoon light soy sauce
2 tablespoons dry sherry or rice wine
2 tablespoons sage
2 teaspoons of five spice
1 x 5 oz can or waterchestnuts, sliced.
1 clove of garlic, crushed
2 ozs spring onions
Vegetable or peanut oil
Heat some oil in the wok and cook the chicken and sage for five minutes until cooked through. Set aside.
Cook the garlic, spring onions and water chestnuts for two minutes, mix in the soy sauce, dry sherry and five spice. Return the chicken to the pan and cook for two more minutes.