Stuffed Nasturtiums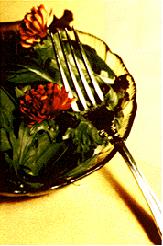 * Nasturtium flowers are more than just beautiful: they are delicious! They have a wonderful spicy, peppery flavor, a little like a radish, only sweeter and tangier. They are an excellent addition to salads as is, and the unopened flower buds are a good substitute for capers when pickled.

You Will Need:
Nasturtium flowers, about four per person, or whatever is available
1 block of cream cheese, room temperature
1 clove of garlic, minced fine
1/2 Tablespoon chives, fresh if you have them
1 Tablespoon fresh chopped lemon verbena or lemon balm
(or lemon thyme, lemon basil, lemon catnip.....etc.)

How To:
1. Make sure flowers are clean and dry. Pick as close to serving time as possible, but definitely the same day. Store in the refrigerator until ready to use.
2. Mix cream cheese thoroughly with herbs. Place 1 or 2 teaspoons of mixture (depending on size of flower) in center of flower. Pull petals upwards to cover the cheese as much as possible. Press lightly into cheese to stick.
3. That's it! Ready to serve.
Stuffed Nasturtiums 2
You will need:
Nasturtium blossoms Guacamole Egg Yolk, prepared as for deviled eggs Cream cheese Yogurt cheese
Fill blossoms with guacamole. With a cake decorating bag, and a large star point tip, Pipe egg preparation into blossoms, use the same process with the cheeses. Use these goodies on appetizer trays, or as a tasty garnish for steak, other beef dishes, or Mexican dishes. Figure 2 to 3 stuffed blossoms per person.
Stuffed Pork Tenderloin
1 pork tenderloin, 1 to 2 pounds
2 ounces goat cheese
1-1/2 tablespoons of nasturtium blossoms, chopped
1-1/2 tablespoons chive blossoms, chopped
1 sprig rosemary
salt and pepper, fresh ground
olive oil
Trim the pork tenderloin, cutting off the thin ends. Using a very sharp knife, butterfly or split the tenderloin lengthwise down the middle, cutting about 2/3 of the way through the meat. Lay the tenderloin open. Evenly spread a layer of goat cheese down the center of the tenderloin. Evenly sprinkle 1 tablespoon of nasturtium and chive blossoms and a single row of rosemary foliage down the center of the tenderloin. Using kitchen twine, close the tenderloin back up and tie it together. Brush the outside of the meat lightly with olive oil, then roll it in fresh ground salt and pepper and the remaining blossoms and rosemary foliage. Place into an ungreased cooking pan and cook for about 30 to 40 minutes in a 350 degree oven or until a meat thermometer reaches 140 degrees. If you're comfortable with outdoor cooking, try cooking it over coals or indirect heat. Because coal temperatures and grills vary so much, you'll have to keep an eye on the meat for doneness. Allow the meat to rest at room temperature for at least five minutes before removing.