Valentine Flower Salad & Champagne Vinaigrette

Ingredients Yield: 4 Servings
• 4 butter or Boston lettuce leaves or "cups"
• 4 ozs. petite salad greens
• 1/4 c. edible flower petals
(see Chef Larry's Notes)
• 1/4 c. chopped fresh herbs (chives, basil and tarragon)
• Salt to taste
• Fresh ground black pepper to taste
• 1/4 c. toasted pinenuts
• 12 baby yellow pear tomatoes
• 12 baby red pear tomatoes
• Chef Larry's Champagne Vinaigrette
(recipe follows)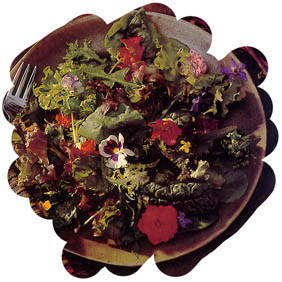 Method
Prepare Champagne Vinaigrette, reserve. Set aside a few flower petals for garnish. Place petite greens, herbs and flower petals in a large bowl. Add enough Champagne Vinaigrette to lightly coat salad components. Season with salt and pepper. Toss gently. Place butter lettuce cups in center of chilled serving plates. Mound dressed greens/flowers in lettuce cups to form a "bouquet." Place dressed greens/flowers in cups and top with toasted pinenuts. Garnish with red and yellow baby pear tomatoes and reserved flower petals.
Chef Larry's Notes
Edible flowers represent a variety of organically grown flowers such as nasturtiums, marigolds, pansies, caledulas, roses, daylilies, geraniums and many others. Edible flowers are available in some specialty produce sections, farmers markets or directly from local specialty growers such as the Greenhouse.
Champagne Vinaigrette
Ingredients Yield: 1 1/2 cups
• 1/2 c. Champagne or sparkling wine
• 1 t. shallots, miced
• 1/4 t. dry tarragon leaves
• 2 t. dijon mustard
• 1 1/2 t. sugar
• 2 t. parsley, chopped
• 1/4 c. seasoned rice wine vinegar
• 3/4 c. olive oil
• Salt to taste
• Fresh ground black pepper to taste
Method
Place champagne and shallots in a small saucepan over medium heat. Bring to a simmer and reduce heat. Allow mixture to reduce to 1/3 of original volume. Remove and cool. Whisk together Dijon mustard, sugar, parsley, rice wine vinegar and cooled champagne/shallot reduction in a mixing bowl. Add olive oil in a slow steady stream while whisking until the oil is incorporated. Season with salt and pepper. Refrigerate until service.
Chef Larry's Notes
If vinaigrette separates, simply whisk before use. Use a "seasoned" rice wine vinegar in this recipe. It is sweeter and lighter than regular rice wine vinegar.