Summer Salad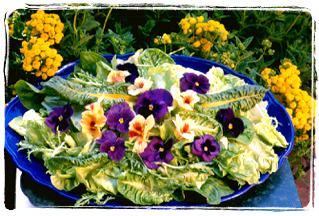 Let's start with a summer salad! It's the easiest way to introduce flower cookery to those weary eyed people who now think you are totaly looney! (and still love ya anyway!).

Take a mixture of TENDER lettuce leaves, and about 3 dozen or so NASTURTIUM flower heads. Now handle these gently for they do bruise easily. If at all possible, don't wash the flowers because of this.
Take balsamic vinegar and good seasonings Italian dressing mix (you know, the one that's been around forever in a little package) and prepare according to directions. Just before serving, add dressing, toss a little and serve! The nasturtiums have a peppery taste and are a real treat! You can also stuff these flowers with a cream cheese dip.

Add chopped lemon pepper (to your taste), chopped chives, and perhaps a little chopped lemon basil to a package of cream cheese and let set for a couple of hours until totaly soft and herbs are "blended" in. Fill flower heads, being a gentle as possible. Refrigerate, served chilled. You can also stuff day-lilies, and squash blossoms in this manner. The orange ones that are abundant along sides of roads are a good variety-although don't use the ones along the side of the road for they are to dirty, plus you can not be sure they have NOT BEEN SPRAYED!! Another dressing you can use for this salad is a rose vinaigrette. Take 1 cup of rose wine vinegar (continue for directions on this), 1 cup sunflower oil, 1 teaspoon sugar, 4 pink roses, and roses for decoration.

The Fragrant Garden Cucumber Salad
3 sliced peeled and seeded ;Lebanese cucumbers
6 small sprigs of lime basil
Handful Society garlic flowers1/2 chopped Spanish onion
6 lemon myrtle leaves (remove before serving)
Mix ingredients refrigerate and let stand for a few hours
Dressing (to taste)
50% Lime juice
50% Sweet Chilli sauce
Summer Paw Paw Salad
One sliced paw paw
One Oakleaf Lettuce
Snow Peas
Rose petals from 2-3 large fragrant roses (Mr. Lincoln is good)
Mix ingredients chill and serve with a seeded French mustard dressing.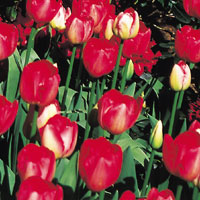 Tulip Tuna
Makes 4 servings
12 brightly colored tulips
2 cans albacore tuna packed in water, drained
3 stalks of celery, coarsely chopped
1 teaspoon curry powder
1 / 3 cup mayonnaise
Freshly ground black pepper to taste
Lettuce for garnish

Remove petals from 8 of the tulips, cutting off 1 / 4 inch where petal was attached to eliminate bitter part of flower. Julienne petals; set aside. In large bowl mix together tuna, celery, curry, mayonnaise and pepper to taste. Add julienned petals and toss gently. Cut off the stems and remove the pistils and stamens from the reserved tulips. Place each tulip on a bed of lettuce. Gently spoon the tuna mixture into the tulips. Serve.