Squash Blossom Soup(serves 6-8)
| | |
| --- | --- |
| 3 Tbsp butter | 3 Tbsp flour |
| 2 cups chicken stock | 2 cups cooked and strained squash |
| 1/2 cup chopped celery | 1 cup chopped squash blossoms |
| 1/4 cup chopped onion | 1 Tbsp chopped parsley |
| Pinch of rosemary | 2 cups milk or light cream |
Combine the butter, flour and chicken stock, slowly, continuously stirring to keep smooth. Add all other ingredients except the milk. Simmer 10 minutes, then add milk or cream, stir constantly. Reheat, but do not boil.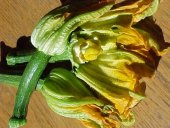 Mushroom and Zucchini Flower Soup
INGREDIENTS:
3 handfulls of Zucchini flower
1 cup corn grains
1/2 onion
2 garlic clovers
2 boiled peeled tomatoes
250 grams of fresh mushrooms
2 litters of chicken broth
3 tbs. of tecate beer
1/4 cup of oil
salt and pepper
1 leafy stem
ofepazote(if available)
1/2 cup soft fresh cheese
DIRECTIONS:
Fry the minced onion and garlic in hot oil. Add the crushed tomatoes, when it is well fried, add the broth, zucchini flower and the well washed and pepper and let it boil till the vegetables are well cooked and add the carta blanca beer. Serve with slices of fresh cheese.

Sopa Mexicana de Flor de Calabaza (Pumpkin flower soup) Recipe By : Patricia Wriedt - Mexico City - pwriedt@spin.com.mx

1 cup Fresh maize grains
2 cups Pumpkin flowers*
2 cups Zuccini cut in cubes
1/2 cup Butter
1/2 cup Butter for the tomatoes
1 cup Red tomatoes pure
1 Onion chopped
Epazote
Salt and pepper
2 chicken flavor cubes
Jalapeno peppers or poblano
1/2 cup Fresh cream

*Pumpkin Flowers need to be washed and prepared just cutting the flower and a little shot in cubes.

Put one of the 1/2 cup butter in a pan and add the maize grains, add the zuccini and the flowers, fry in the butter just until the vegetables make stock, add the epazote and salt. A while in a sauce pan put the other 1/2 cup of butter, add the onion chopped (or better if made a pure too) let the butter apears on top, add the red tomatoes pure. cook until seasoning, adding salt and pepper and chicken cubes. Be careful with the salt. When the redsauce is ready add to the soup and add 3 cups of water, add the chiles cutted in pieces, if you use poblanos instead of jalapenos you will need to peel them before as usual. Let cook until the vegetables are soft and just two minutes before serve add the cream, with cream the soup don't have to boil.