Some ideas 2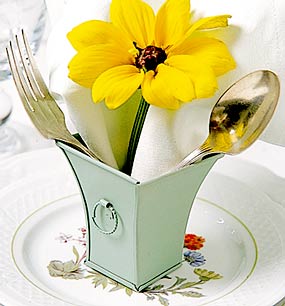 Serve your next supper as this: Serve a calendula cheese ball with crackers. Mix sweet red pepper, calendula flowers, cream cheese, black pepper, and chopped fine carrot together and roll into ball. Enjoy this while cooking up strips of beef and onion, add a cup or so of water, use your favorite flavorings for beef, thicken juice with cornstarch, and serve in a bed of yellow chrysanthemum flower petals! Beautiful! Serve this with a burgandy wine with floating borage petals. Finish this dish off with anise hyssop flower butter cookies. Make you favorite butter cookie recipe and add anise hyssop flowers-about 2 tabls. per recipe.

A couple of things I have done myself is candy flowers: I have taken violets and brushed a mixture of beaten egg whites on the petals. Then sprinkle refined sugar on the flowers. Let this air dry for a couple of days, and I have fozen mine, a friend let hers keep in a tupperware saver to be used for topping cupcakes and cakes and cookies. Another thing I enjoy is making flower sugar. Take lavender or rose and add to a cup of sugar. Let set for three or four days and your sugar is ready for sprinkling on sugar cookies or used in teas. I once did wedding punch ice molds by freezing flowers in a PALE CLEAR JUICE-we used lemonade. Take peonies, roses, and pinks, and layer them in a ice mold, or jello mold. Add just a little juice and freeze, then add more juice and freeze. Then finish the mold off in juice and freeze. Loosen mold under warm water when you're ready to use in your punch. You may also add fresh flowers to punch for extra decorations. Also, try adding chopped flowers to your morning scrambled eggs for a delightful way to start the day!

These are a few more edible flowers that perhaps you can substitute into some of the above ideas!

Here are a few other ideas to use with some of those flowers that will sure to impress anyone!

Tulips with pistils removed filled with chicken salad! Yucca flowers with the hearts removed for they are bitter. Wisteria for wine and preserves and fritters and honey. Verbena for fruit cups and wine. Peach blossom vinegar can be made by placing 1 ounce of blossoms into a pint of warmed vinegar and let set for about 15 days. Use this in your next dressing! Lime flowers (linden tree)can be made into a tea, or infused into honey is wonderful! Sunflowers. Snapdragons in applesauce with raisens. Saffron mixed in butter served on toast. Poppies, plums and primrose and pansies. Orchids if you dare! Gladiolus tossed in a salad or omelette. Scented geranium flowers in almost everything! Cowslips, (okay, I don't know what this one is!) But, I'll look it up to see.. Let me hear your experiences via e-mail, if any of you who read this have eaten any flowers lately! Have fun! And keep your flowers clean and unsprayed if you tend to nibble at them!