Stir-Fried Lotus Root - Yonkun Jorim (Recipe from Korea)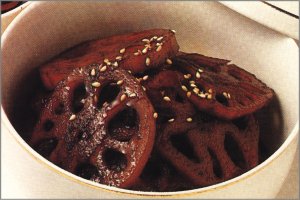 Ingredient

Lotus root : 7 oz (200 g)
Soy sauce : 4 tbs
Salad oil : 2 tbs
Sugar : 2 tbs
Sesame seed, roasted : 1 ts

Method

1. Wash and peel the lotus roots, then slice them about 1/4 inch thick.

2. Heat the salad oil in a fry pan. Cook the lotus roots over medium heat.

3. Mix soy sauce with sugar well. When lotus roots are almost done, add the mixed sauce.

4. Cover the lid of the pan. Boil the lotus roots down over low heat until they become glossy and the mixed sauce dwindles away into almost nothing.

5. Transfer it to a serving plate. Sprinkle roasted sesame seeds.

Deep-Fried Stuffed Lotus Roots (Recipe from China)

Ingredients
| | |
| --- | --- |
| 9 oz (250 g) lean boneless pork, minced or ground | 2 eggs,separated |
| 1 lb. (500g ) fresh lotus roots | 9 oz or 2 1/4 cup (250 g) flour |
| 1 tbsp soy sauce | 1 tsp. salt, or to taste |
| 1 tsp. rice wine | 2 cups (500ml) vegetable oil for deep-frying; uses about 5 oz (150ml) |
| 1 tsp. scallions, chopped | tomato ketchup or Worcestershire sauce |
| 1/2 tsp. ginger, chopped | 1/4 tsp. MSG |
Method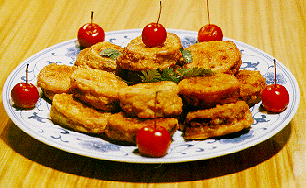 1.For the filling, mix the pork with the soy sauce, rice wine, scallions, ginger, MSG(optional) and half a beaten egg white. Set aside.

2.Beat the remaining egg white with the yolks and mix with the flour, salt, and enough water to make a thick batter.

3.Cut the lotus roots crosswise into 1/4 inch (5mm) slices. Divide the filling into portions, and place a filling portion between two slices. Repeat until all the lotus root is used.

4.Heat the oil in a wok to about 350oF(175oC) , or until a small piece of scallion green or ginger sizzles and moves about rapidly when tossed into the oil. Dip stuffed lotus roots in the egg batter and add to the oil. Deep-fry until golden brown, remove, and drain. Serve with tomato ketchup or Worcestershire sauce for dipping.