Day Lily Pork
(4 servings)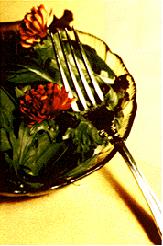 3/4 cup onion rings
3 Tbsp butter
1 clove garlic, mashed
8 thin slices of pork
1 Tbsp cornstarch
2 Tbsp soy sauce
1/4 tsp powdered ginger
1 Tbsp Madeira wine
Salt and Pepper to taste
1 1/2 cup chopped day lilies

Saute onions in the butter until translucent. Remove onions from pan with a slotted spoon and set aside. To butter, add garlic and pork slices. Cook both sides of pork, and remove from pan. Leaving the juices and butter within the pan. Stir cornstarch into the soy sauce until smooth, add to the pan along with ginger, wine, salt/pepper. Stir ingredients until thickened and clear. Add the chopped day lily and onions to the pan and stir 2 minutes over medium heat. Pour this mixture over pork and serve.

Pasta W/Day Lily Buds and Mushrooms

About 6 oz. of oyster or shiitake mushrooms
1 heaping cup daylily buds, 1-1/2 to 2 inches long
2 Tbsp unsalted butter
2 Tbsp olive oil
2 shallots, finely minced
1/2 tsp freshly chopped marjoam
1 Tbsp fresh chopped parsley
Salt and pepper to taste
Freshly grated parmesan cheese
1 lb. fresh fettucinne noodles

Put water on to boil while preparing vegetables. Clean mushrooms, do not rinse. Use either brush or damp paper towel. Tear into large bite size pieces and remove stem of shiitakes. Rinse the daylily buds and pat dry. In large skillet, heat butter and oil over medium heat. Add the shallots and saute them about 1 min. Add mushrooms and stir for a min or 2. Add the daylily buds and stir 2-3 min. Add the herbs and season to taste with salt and pepper. Cover the skillet and let stand over low heat for a few minutes while pasta is cooking. Drain the pasta, add it to the vegetables, and toss well. Add another Tbsp of butter or oil if necessary. Taste for seasoning and serve hot. Garnish with bread crumbs and parmesan if desired.
Pineapple Sage Salsa
(serve with Corn Fritters, below)
2 cups fresh pineapple cut into 1/2" pieces
1/2 cup sweet red pepper
1/4 cup Vidalia onion, finely chopped
1/2 teaspoon chipolte pepper, crushed (hot chili powder can be substituted)
1/4 cup pineapple sage flowers, coarsely chopped
Note: To get 1/4 cup of flowers, you'll need 20 or more flower stems of pineapple sage. It's a bit tedious, but you need to pluck the tiny, bright red flowers one-by-one. It's okay of you end up with a little bit of the sepals (the green stuff around the base of the flower.)
Combine all these ingredients in a nonmetallic bowl. Cover, then refrigerate for at least 12 hours before using. This allows plenty of time for the flavors to meld.
The salsa is also good as a dip with chips or served on seafood. And believe it or not, it tastes pretty good on ice cream, too! You might consider eliminating the onions, even though they're sweet.