Sausage Salad in Banana Flower
This exotic recipe is from Tailand and we found it in:
Yum Sai Grok hua plee - Banana flower salad recipe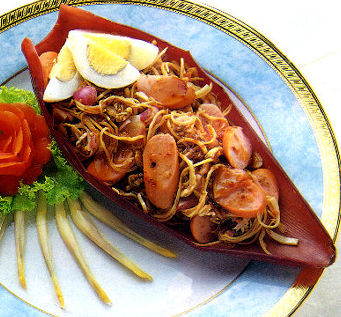 | | |
| --- | --- |
| Smoke Sausage (cocktail) | 100 grams |
| Banana flower sliced | 1 scoop (Hand full) |
| Thai red Onions | 1 Table spoon |
| Crushed Peanuts | 2 tablespoons |
| | |
| boiled egg sliced for topping garnish | |
| | |
| --- | --- |
| Chilli Paste - The type cooked in oil | 2 Tablespoons |
| Lemon Juice | 2 Tablespoons |
| Fish Sauce | 2 Tablespoons |
| White Sugar | 2 Tablespoons |
| Green Chilli - lightly crushed to full flavour | 5 chilli |
| Soup stock - Chicken | 2 Tablespoons |
| Coconut Cream | 2 Tablespoons |
1). Slice bannana flower like Onion ring size and cover with lemon juice to stop discolouring like on would with an apple.

2). Put sausages like hotdos in boiling water and heat. Remove and dry.

3). Mix all ingredents on a boil and then take a outer petal of the flower and use as a basket and fill with salad and garnish with egg. Serve

Eileen's Spring Flower Salad©
Author
Eileen O'dea
To serve 4,you will need:
4 cups salad greens, your choice PICTURE 1 small red onion, sliced thin 1 small cucumber, sliced ½ inch thick 6 to 8 white mushrooms 2 large sweet peppers, sliced in julienne style ½ pint grape tomatoes ¼ cup Chive blossoms, individual flowers separated ¼ cup Sweet Rocket blossoms ¼ cup Meadow Crainsbill blossoms 5 large Pansies 1/8 cup Sweet Violets

On two separate platters place, salad greens and other ingredients arranged attractively. Serve immediately as flowers will wilt if left too long. Provide several light salad dressings.