Marigold Cheese Soup
(serves 6)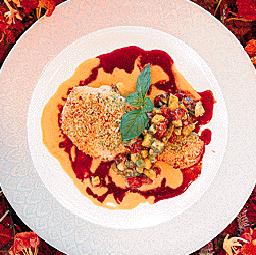 1/4 cup butter
1/2 cup each minced celery and green pepper
3/4 cup each minced onion and carrots
4 Tbsp flour
1 quart chicken stock
3 cups grated cheddar cheese
Salt and pepper
3 Tbsp minced marigold petals
1 cup milk
1 cup cream
2 Tbsp sherry
Chopped chives or parsley

Melt butter and saute celery, green pepper, onions, and carrots for 12 minutes. Add flour, constantly stirring, and slowly add stock. Stirring until slightly thickened. Lower heat and slowly add cheese, stir gently. Add salt, pepper, marigolds, milk, cream, and cherry. Heat but do not boil. Garnich with chives or parsley and serve.

Borage Soup
(serves 6)

2 cups chicken broth
1 cup buttermilk
1 1/2 Tbsp chopped onion
1 1/2 Tbsp lemon juice
6 borage leaves
2 cucumbers, seeded and peeled, chopped
1 cup sour cream
6 borage flowers
Salt and Pepper

Put broth and buttermilk into blender with onion, lemon juice, salt and pepper, borage leaves, and cucumbers. Blend well. Add sour cream, blending again. Chill well. Garnish with a flower.

Yucca Soup
(serves 4)

3 cups soup stock
2 cups chopped tomatoes
1 small onion, chopped
2 Tbsp green pepper, chopped
1 clove garlic, minced
Salt and pepper to taste
2 cups yucca flowers
1 Tbsp sugar
1/2 cup peas

Combine the soup stock, tomatoes, onion, green pepper, garlic, salt and pepper. Simmer 30 minutes. Add yucca, sugar, and peas, simmer another 10 minutes. Serve.