Chrysanthemum Sweet Potatoes

6 med sweet potatoes
1/2 cup canned crushed pineapple
1/4 cup honey
2 Tbsp butter
1/2 tsp grated lemon rind
1/2 cup chopped chrysanthemum petals
Salt and Pepper to taste

Cook and mash potatoes. Add all ingredients and mix well. Pour into buttered baking dish. Bake at *350 for 20-30 minutes.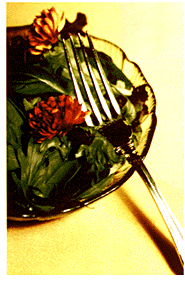 Dandelion Potato Gratin
(serves 4 - 6)

1 lb potatoes
1 lb dandelion greens
1 tbsp light olive oil
2 tbsp unsalted butter
2 garlic cloves, finely chopped
1/2 tsp salt

****
1 garlic clove, peeled
1 1/2 cups heavy cream
1 1/2 cups half and half
1/2 tsp salt

Peel and slice potatoes thinly into rounds. Immediately put into cold water. (prevents browning) Wash dandelion greens and remove stems. Stack greens and cut across into small ribbons. Blanch the greens in salted boiling water for 30 seconds if young leaves, and several minutes if they are older. Until they have lost some of their bitterness. Drain greens and put under cold running water. Squeeze out the excess liquid, and saute over medium heat in oil, 1 tbsp butter, all the garlic, and salt for 5 minutes. Preheat oven to *375 and rub baking dish with raw garlic clove. Let dry and grease dish with remaining butter. Heat the cream in saucepan with remaining 1/2 tsp salt, do not let boil. Place layer of potatoes in dish, then a layer of greens, then potatoes, etc. Pour cream into baking dish over layers. It should just cover the top layer of potatoes. Place dish into oven and bake uncovered for an hour, or until cream has been absorbed and the surface is bubbly and golden.

Beltane Marigold Custard
(from Wicca: A Guide for the Solitary Practitioner, by Scott Cunningham)
2 cups milk

1 cup unsprayed marigold petals

1/4 tsp. salt

3 Tbsp. sugar

1 to 2 inch piece vanilla bean

3 egg yolks, slightly beaten

1/8 tsp. allspice

1/8 tsp. nutmeg

1/2 tsp. rose water

cream (topping)
Using a clean mortar and pestle reserved for cooking purposes, pound marigold petals, or crush w/spoon. Mix the salt, sugar and spices together. Scald milk with the marigolds and the vanilla bean. Remove the vanilla bean and add the slightly beaten yolks and dry ingredients. Cook on low heat. When the mixture coats a spoon, add rose water and cool. Top with whipped cream, garnish with fresh marigold petals.