Vinegared Lotus Root (Su Renkon) (recipe from Japan)
1 section(10 in.) lotus root
¼ tsp. MSG *Optional
¼ c. water
¼ c. thinly sliced abalone
¹/³ c. vinegar
¼ c. thinly sliced carrots
3 tbs. sugar
1 tsp. toasted sesame seeds
1 tsp. salt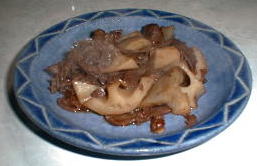 Peel lotus root and slice crosswise thinly. In a sauce pan, combine water, vinegar, sugar, salt, and MSG; bring to a boil. Add lotus root and cook 4 to 5 minutes until clear and transparent. Remove from heat; gently mix in abalone and carrots. Sprinkle with sesame seeds; chill. Makes 6 servings.

Renkon Tsumemono (Stuffed Lotus Root) (recipe from Japan)
2 sections(10" size Renkon¹)
1 tsp. MSG
2 Qt. water
½ tsp. salt
1 Tbs. vinegar
fat for frying
1 cup Miso²
½ cup flour
3 Tbs. sugar
1 tsp. baking powder
6 Tbs. water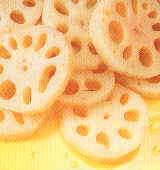 Pare Renkon and cut off ends. In a sauce pan combine Renkon, 2 qts. of water and vinegar; bring to a boil. Lower heat to medium and cook for 5-6 minutes; drain. Combine miso, sugar, MSG and ¼ tsp. of salt; mix well. Pack mixture into Renkon holes with a spoon or small knife, tapping root on table or counter to settle mixture to the bottom. Fill to the top. Heat fat to 375° F. In a small bowl combine flour, baking powder, remaining ¼ tsp. salt and the 6 Tbs. water. Dip Renkon into batter and fry for 12 mins. or until golden brown. Drain on absorbent paper; cool. Cut into ½" slices. Makes 6 servings.
¹Renkon - Lotus Root
²Miso - Fermented soybean paste.