The international role of flowers in humans life and occasions. References from 10 worldwide selected locations. Greece-Santorini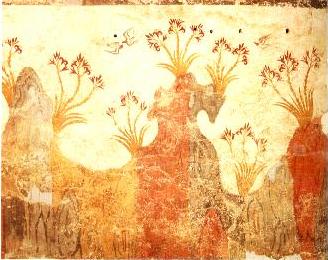 image 1.The Wall painting of Spring
In ancient Greece flowers are part of peoples life. Religion, myths, art, medicine, celebrations and more others activities are waved together with flowers. In Minoan period the art of decoration is full of samples of flower's influence. On Thyra* island (Santorini) the archaeologists discovered marvelous wall paintings with flower content. There are excellents samples of ancient greek chloris and what was the meaning of flowers those times.
| | |
| --- | --- |
| | |
| image 3. Liliun candidum | image 2. The Wall painting of Spring |
White lily(Liliun candidum)(image 3) was a religion symbol 1600 years before Jesus born and that flower became the symbol of Blessed Virgin Mary. In ancient Greece white lily was the symbol of perfection. Symetry and harmony. Everybody's desire.
In wall painting of Spring; (images 1 and 2) which was found in Thyra* you can admire this plant. The red color of the flower is only for decoration purpose.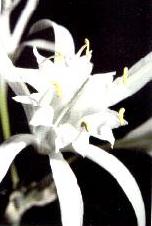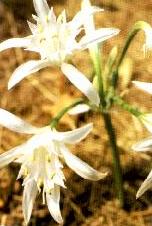 Another kind of lily actually a type of Amaryllis (Pancratium maritimum) (images 4 and 5) has the same meaning.

image 4 .Pancratium maritimum

image 5. Pancratium maritimum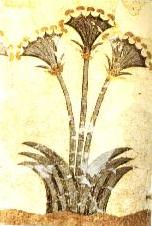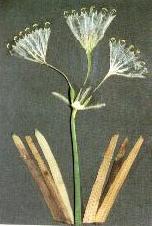 This wall painting decorates "The ladies room" in Thyra. (image 6)

image 6. The wall painting of The ladies room

image 7. Pancratium maritimum (dried)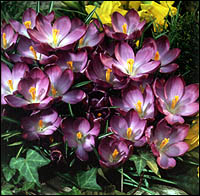 image 8. Crocus flower
Another interesting wall painting which was found in Thyra is "the woman who collects crocus"(image 8). Crocus flower was very famous in ancient Greece for its medical prorerties and as a painting material.(image 9).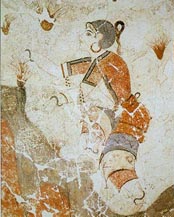 image 8. The woman who collects crocus.
Under the dark ashes of volcano the ancient houses of Thyra reminds to us that life is long as a flower, strong like its colors, deep like its parfume, hopeful like its seeds.