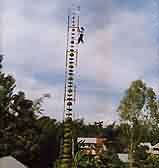 World's tallest topiary.
Since 1983 Moirangthem Okendra Kumbi of Manipur, India, has shaped a Sky Flower bush (Duranta repens variegata) which has grown 18.59 m. (61 ft.) high. He has cut 41 shapes into it, repeating a design of an umbrella followed by two discs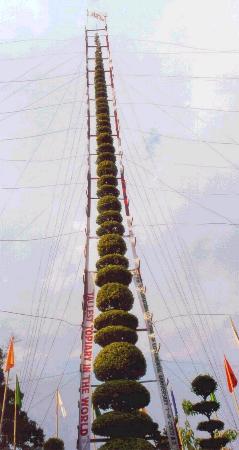 Moirangthem grew up in Manipur, surrounded by nature. An agricultural scientist by profession, he works at Meerut University as an Assistant Horticultural Officer. He says that one day in 1983 he noticed the record-breaking Nilkanta (the Hindi name for the Duranta hedge plant) growing in a small plant pot and decided to keep his eye on it. Experts told him it wouldn't grow past 20 feet, but he never gave up. While it was growing, Moirangthem would display it at local exhibitions. Once it became too big to move, however, he decided to plant it permanently. In 1993, the governor of Manipur saw it and recommended him for the position he now holds at the university. To make his "sweetheart" (as he calls it) grow, Moirangthem prunes away excess branches, redirects new sprouts and fertilizes the soil in order to achieve the best results. He climbs the tall iron railings that hold the plant up twice a day in order to do this. When they heard he had been recognized as a record holder, his close friends and family celebrated and everyone in the neighborhood lit candles as part of the celebration.