Bloomin' Cookies

Spring promises to be sunny when you bake a bounty of cookie blossoms.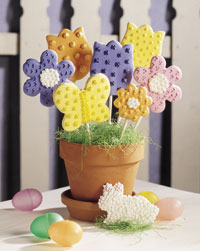 Use these cookies as decorations, gifts, or place markers for special occasions.
Baking the Cookies

What You Need:
1 cup margarine or butter
1 8-ounce package of cream cheese, softened
3-1/2 cups all-purpose flour
2 cups sugar
1 egg
1 teaspoon baking powder
1 teaspoon vanilla
Cookie sticks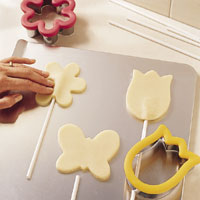 Use ordinary cookie cutters to create various shapes.
Instructions:

1. In a mixing bowl, beat margarine or butter and cream cheese with an electric mixer on medium to high speed about 30 seconds or until softened. Add about half of the flour, the sugar, egg, baking powder, and vanilla to the margarine mixture. Beat until thoroughly combined, scraping sides of bowl occasionally. Then beat or stir in the remaining flour.

2. Divide dough in half. Cover and chill for 3 to 24 hours or until easy to handle. On a lightly floured surface roll each portion of dough to 1/4-inch thickness. Cut into 2-1/2-to-3-1/2-inch shapes (such as tulips, flowers, or bunnies).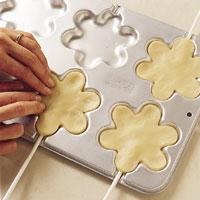 Special cookie pans can often make the job easier.
3. Place 1 inch apart on an ungreased cookie sheet. Tuck a wooden stick under the center of each cookie. Press dough down slightly so that the cookie bakes around the stick. Bake in a 375 degree F oven for 8 to 10 minutes or until edges are firm and bottoms are lightly browned. Carefully remove cookies and cool on wire rack. Makes about 36 cookies (fewer if larger cookie cutters are used).

TIP: Cookie pans are another option. For the best results, use the recipe included with the pan. Press the dough into the pan and insert the sticks.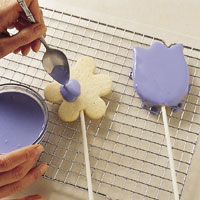 To create colors, use a toothpick to transfer food coloring to the frosting. Add a tiny amount at a time until you find the color you want.
Decorating Tips


Making the Glaze

1. With a fork, beat together 2 tablespoons meringue powder, 1/4 cup warm water, and 2 cups sifted powdered sugar until smooth. Gradually stir in about 1-1/2 cups additional sifted powdered sugar to make a smooth glaze that is spreadable but not running. (It should have a flowing consistency and be too thin to hold ridges when spread.) Divide glaze; tint with paste food color as desired. Makes about 1 cup.

2. Place cookies on a cooling rack. When cool, spoon Meringue Powder Glaze over until covered.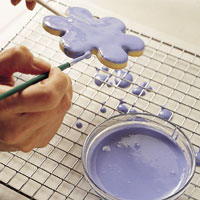 Mix different colors of food coloring to create fun and different colors.
3. Use a small food-safe brush to spread the glaze on the sides of the cookies. Allow the glaze to settle, then pick the cookies up and run a smooth knife over the back to knock off any drips before they harden. Let the cookies dry.

Add Royal Icing

What You Need:
3 tablespoons meringue powder
1/3 cup warm water
1 16-ounce package powdered sugar, sifted (4-1/2 cups)
1 teaspoon vanilla
1/2 teaspoon cream of tartar

Paste food color
Instructions: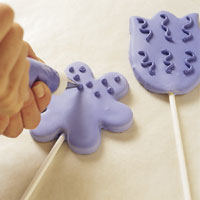 As an alternative, use royal icing to write a message to special friends.
1. Combine meringue powder, water, powdered sugar, vanilla, and cream of tartar in a small mixer bowl. Beat with an electric mixer on low speed until combined, then on high speed for 7 to 10 minutes or until very stiff. Use at once.

2. Divide icing; tint with paste food color as desired. When not using icing, keep it covered with clear plastic wrap to prevent it from drying out. Makes 3 cups.

3. Fill a decorator tube with Royal Icing and make dots, squiggles, half circles, and stars on the cookies. Allow to dry completely.