Save money for flowers on a wedding decoration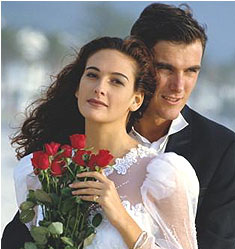 Anyone who has ever itemized the cost of a wedding knows the flower bill can go through the roof.

A fancy bouquet for the bride can run as much as a wedding ring but it's not enough. By the time you add bouquets for the bridesmaids, flower baskets for the flower girls, corsages for the mothers, boutonnieres for the men, centerpieces for the banquet and gift tables and a bouquet to toss to single girlfriends, the tab can easily soar too high.
Want to save more money? Here's how:

Getting started:

• Look for a free-lance florist/decorator. They can provide quality products for less money than a conventional florist shop, because they don't have the overhead. But shop around. Make sure you do business with someone who is reputable and who is recommended by someone who was pleased with their service.
• Limit the number of people in your bridal party to cut down on the amount of flowers needed for bouquets, corsages and boutonnieres.
• Don't plan your wedding near big flower holidays, such as Valentine's Day, Easter and Mother's Day.

The wedding party:

• Make or select a bridal bouquet with long-stemmed roses secured with an elegant bow and ribbon.
• Make a pretty, but inexpensive, bouquet for under $25 for the bride to toss.
• Use mini-carnations for corsages and boutonnieres. They cost less and come in several colors.
• With the exception of the bridal bouquet, make arrangements with all greenery and foliage. Accent with bows and ribbons in the wedding colors.

The wedding and reception:

• Get more bang for the buck by using the same floral arrangements at the church and the reception. Eliminate transportation hassles by holding the wedding and reception at the same location. You can even let the bride's and bridesmaids' bouquets do double duty as decorations at the reception.
• To save on delivery and set-up costs, ask a friend who has a van to pick up your flowers, take them to the church and/or reception and set them up.
• Use potted plants or flowering bulbs as centerpieces at the reception. Or, make them yourself with silk flowers. Let guests take them home for wedding favors. Other moneysaving options are to place a single rose or mini-carnation at each table setting. Groups of fresh vegetables also make nice centerpieces.
• Rent flower vases instead of buying them.
• Float gardenias in a bowl surrounded by a garland of smilax. Scatter rose petals around the bowl for more color.
• Limit the different types of flowers in your arrangements to keep costs down.