How to buy flowers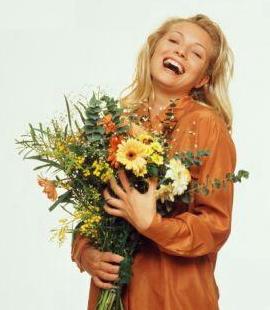 Need to find the perfect, personalized gift in a pinch? Why not flowers?! With flowers and plants available in hundreds of shapes, sizes, and colors, floral arrangements are one of the easiest gifts to customize.
When choosing your gift arrangement try to communicate basic information about the gift recipient (his or her favorite colours, hobbies, and manner of dress) a professional florist can create a gift arrangement to match someone's tastes and interests.
Just as flowers are an elegant gift for others, they are also a great way to treat yourself! Flowers are an inexpensive way to perk up your living or work space.
Flowers are also a great way to elevate a wedding, party or other special event from ordinary to extraordinary! Florists can help you with appropriate choices to highlight any mood or theme.
Every floral shop has its own personality. Find one that offers a mix of products, level of service, and design style that fits your needs. At the very least, a florist should offer same- or next-day delivery and out-of-town sending capabilities.

Floral arranging is, without doubt, an art form. Look for the florist whose arrangements sparkle with creative fusion – combining a variety of flowers (from familiar carnations to exotic tropicals) and attractive packaging.
Factors that affect the price of floral arrangements include the type and number of flowers, size of arrangement, availability of selected flowers, and whether or not the chosen bloom is in season.

Flowers are more expensive at holidays – a simple issue of supply and demand. Expect to pay 30 percent more for a dozen roses ordered for Valentine's Day than at other times of the year.

When to Place Your Order
General gift arrangements: Most florists can promise same-day or next-day delivery.

Holiday gift arrangements: Florists often have a cut off time (usually 3 to 5 days before the occasion) for accepting orders for holiday delivery. To be safe, place your order at least a week in advance.

Special order arrangements: If you want a specific, rare or exotic flower in a particular color, your florist may have to special order it. Call your florist a week or two in advance.

Wedding flowers Contact your florist at least three months in advance. However, if you're planning an elaborate event or if your date falls during the peak wedding season or near a holiday, allow six months to a year.