Holiday Decorating with Plants and Flowers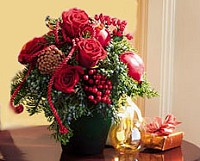 What better way to get into the spirit of the season than with holiday plants and flowers? Poinsettias are usually what come to mind first, but there are several other types of flowers that can be incorporated into your décor.

Every type of flower is available year round but certain ones have different uses depending on what time of the year you buy them.

Here are some tips and ideas to create the most colourful and festive holiday atmosphere.

Select a Color Theme. During the holidays, you'll find red, white and burgundy flowers are most popular with accents of gold and silver. Choose coloured plants and flowers and mix and match them throughout the house. You want vibrant colours during the season to give everything a fresh and festive feel.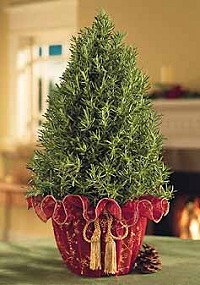 Incorporate Different Types of Decorations. Decorations can vary in size, from a huge table setting to a simple small tree tucked away on a corner table. There are several ways to incorporate plants and flowers into your décor.

Flower centerpieces are natural and classy for the holiday season and can also be glitzed up by incorporating a stretchable wire called boullin on top of flowers. Garlands with flowers give great impact to any room and will last throughout the holidays. There's no rule when it comes to decorating, it's really up to one's imagination and ideas.
Get Whimsical. Use pieces of ribbon, lights, hollies and candles, anything you can think of to personalize your plants or flowers.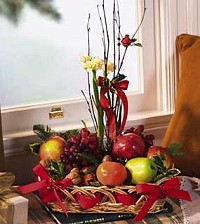 Try adding some fruit, especially apples, cranberries, citrus or pomegranates which look great in holiday decorations.
Although there is an array of plants and flowers to incorporate into your holiday décor, here are some of the most common ones.

Amaryllis. This is a beautiful, tall flowering holiday season plant, with a large puffy head and comes in white, pinks, and oranges. For a really simple but elegant centerpiece, try potting either a single amaryllis or a trio of them in a terra cotta pot sprayed silver or gold. Cover the dirt surrounding the bulb with moss adding silver or gold Christmas balls.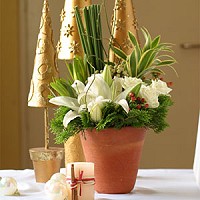 Casablanca Lilies. Elegant and classy, these lilies are known for their long lasting bloom and will add a fresh floral fragrance to any room. For a great accent during the holiday season have a few Casablanca lilies floating in a bowl along with some hollies and greens.
Cyclamen. The flowers of this striking plant are held high on a stalk above the foliage, and face downward with colours ranging from white, pink, red and lavender. The petals reverse, pointing upwards to give the blossoms a look resembling butterflies. Cyclamen is a lovely plant for table decorations which isn't too tall for a dining room table. Try incorporating the flower of this plant as part of your table setting by tucking the stem into the napkin ring holder. Another great option is to arrange red and white cyclamens around the base of a large pillar candle.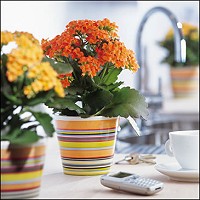 Kalanchoe. Consisting of tiny 1/4 to 1/2 inch blossoms of red, coral, yellow, orange or gold, Kalanchoes have thick, waxy leaves. This unique flowering plant is an excellent choice that will present a bright, cheerful Holiday appearance. Trim a windowsill with a collection of these plants or tuck several of these in spots all over the house. To add a bit of chic to this plant, tie a contrasting ribbon around the pot.
Star of Bethlehem. This orchid consists of a large slender stem that opens up into a star-like ball with leaves that resemble a large fan. The blooms are a waxy white to greenish white in color. Include these orchids into your holiday wreath by surrounding them with clusters of berries or have them highlighted within your decorative garland.